The Truth About Matt LeBlanc And Matthew Perry's Friendship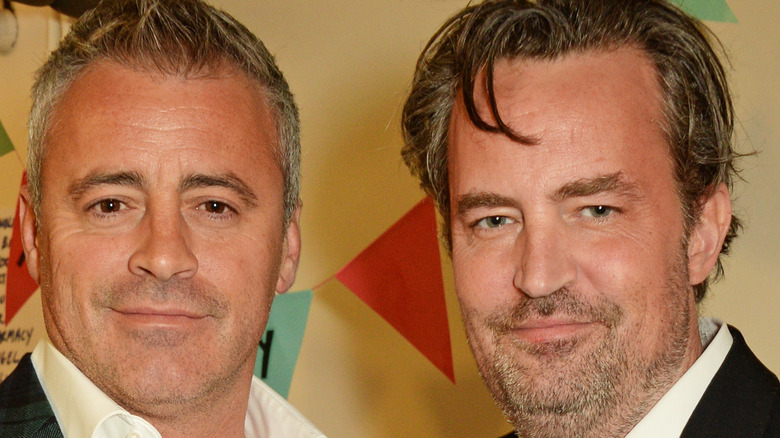 David M. Benett/Getty Images
During the 10-season run of the hit show "Friends" there was one thing that the audiences could always count on: Despite any kind of squabbles main characters Rachel, Monica, Phoebe, Ross, Chandler, and Joey experienced, the sextet's friendships would remain strong through thick and thin. And potentially the strongest friendship of them all? That of Joey (Matt LeBlanc) and Chandler (Matthew Perry), whose hijinks over the years included remaining in their recliners as long as physically possible and, of course, adopting a chick and a duck. While it doesn't appear as though LeBlanc and Perry have quite the same level of bromance as Joey and Chandler, there is a lot of affection there.
"I saw him yesterday. I love that guy! I can not see him for five years and then get in a room together and still have that shorthand with each other," LeBlanc told People during his 2016 Summer TCA press tour for "Man with a Plan" (via Hello). "It's amazing, really. Ten years in a building with no windows and the doors locked, we got to know each other pretty well."
They show up for each other, too. When Perry made his playwriting debut with "The End of Longing," LeBlanc was there to see it (via Playbill). "Went to see 'The End of Longing' last night and ran into this dude " LeBlanc shared in an Instagram post, along with a picture of the two of them together. "He and the cast were great. Way to go, bro," 
The best of friends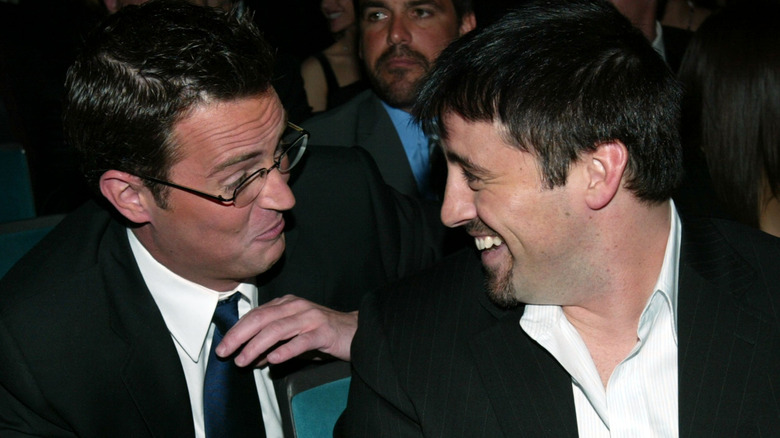 Frank Micelotta/Getty Images
As a group, the six cast members of "Friends" all seem to love each other as much off screen as they do on. "After the show was over at a party or any kind of social gathering, if one of us bumped into each other, that was it, that was the end of the night. You just sat with the person all night long," Perry said during the "Friends" cast reunion on HBO Max (via Today). "You apologized to the people you were with, but they had to understand you had met somebody special to you and you were going to talk to that person for the rest of the night."
The cast reunion marked only the second time that the full group had reunited since the show ended in 2004 (via People). In 2019, Jennifer Aniston revealed the gang had all gathered together for dinner at Courteney Cox's house (via Bustle). "Schwimmer was in town and we all happened to have a window of time so we all got together," Aniston shared. "We laughed so hard."
And while there's definitively no "Friends" reboot coming, it likely won't be hard for the group to find another excuse to reunite (via Variety). "I'll tell you one thing: We are not waiting so long to have dinner," Cox said (via ET Online).