The One Face Oil That Kate Middleton Swears By
Shutterstock
Duchess of Cambridge and mother of three, Kate Middleton pretty much always manages to look put together and with a beautiful, glowing complexion. One of the ways she gets that is by keeping to a skincare routine that includes an organic face oil by Beuti Skincare. The U.K. company's Beauty Sleep Elixir is all about helping prevent aging and brightening your skin, so it seems like for Kate it's doing the trick (via Beuti Skincare). 
According to their website, it's a "natural blend of 14 plant-based oils including marine plant, Sea Whip, which is a powerful anti-inflammatory as it neutralizes the enzymes responsible for skin aging." Other oils in the mix include pomegranate seed oil, "to reduce redness and detoxify the skin" and sandalwood nut kernel oil, which "helps to increase collagen and elastin production." Leila Aalam, founder of Beuti Skincare, said, "We were ecstatic to know that she liked it and was actually using it," and that she even has three bottles of it on her bedside table (via People).
Kate Middleton isn't the only fan of the Beauty Sleep Elixir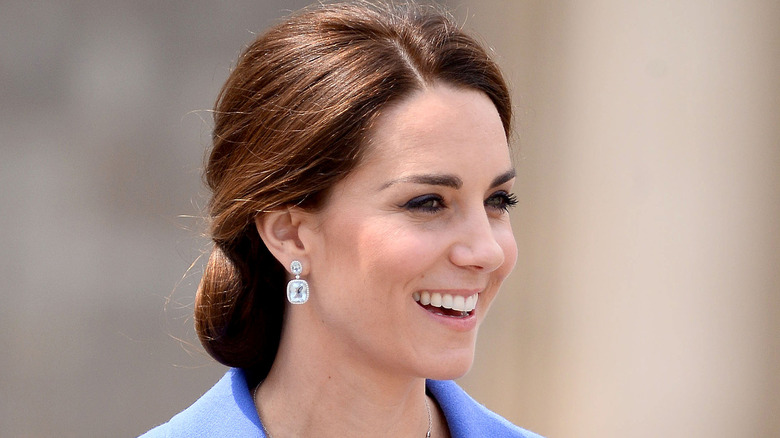 Shutterstock
Kate Middleton isn't the only fan of the Beauty Sleep Elixir. One user wrote "it helps to fight blemishes and leaves me with noticeably smoother, brighter skin" (via New Beauty), and another described it as "like dipping your face into the most luxurious velvet and your skin just soaks it up" (via Today).
It's not the first time that the Duchess of Cambridge has been discovered to be a fan of facial oil to keep her skin looking radiant. When she was pregnant with Princess Charlotte, it was reported that she used the all-natural Trilogy's Rosehip Oil; a source told US Weekly that "Kate continues to use rosehip oil in her daily skincare regiment. She loves the effect it has on her skin. [Her mother] Carole is also a fan." Because of the antioxidants, vitamins, and healthy omega fatty acids, rosehip oil is perfect for anti-aging and improving skin texture and promoting skin (via Town & Country).
Once the news broke that she liked the rosehip oil, it caused another round of the "Kate effect" — where if she's seen wearing something, it sells out quickly. The Trilogy makers said that the rosehip oil became so popular, it "sold once every 20 seconds" (via HuffPost).