Who Is The Bachelorette's Mike Planeta?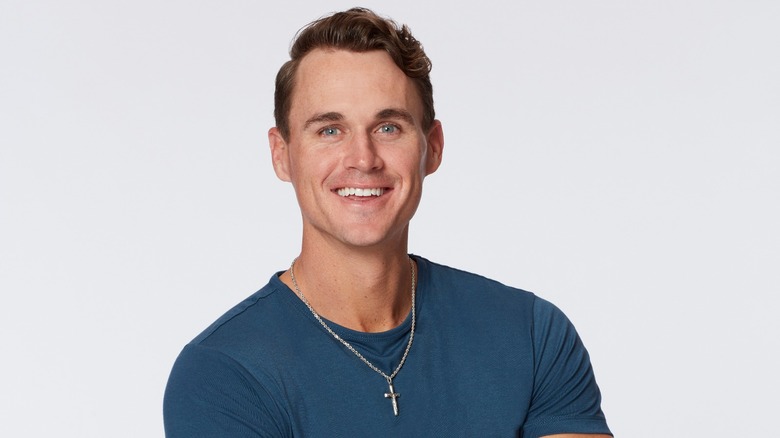 ABC/Craig Sjodin
We're gearing up for Katie Thurston's season of "The Bachelorette," set to premiere June 7 on ABC, and you can bet we're already getting the lowdown on all the swoon-worthy contestants. This season brings real estate brokers, motivational speakers, bartenders, and overall, a lot of seriously cute guys. But there's one contestant in particular that's already catching our eye: none other than 31-year-old San Diego-based Mike Planeta. Easy on the eyes, this dreamboat is the epitome of the boy next door — just with a few surprises.
As per Planeta's Instagram biography, although he currently lives it up on the San Diego shore, he's originally from Surprise, AZ. An athlete at heart, Planeta was once a minor league baseball player, playing for teams like the Virginia Bluefield Orioles and Delmarva Shorebirds from 2009 to 2013 (via MLB). Although he mostly delved into the minors, it's also important to note that Planeta was originally signed to the major league Baltimore Orioles in 2009, a very impressive feat. 
Alas, Planeta's baseball career ended in 2013 when he was officially released by the Frederick Keys, but it's not to say his life has gotten any less active. According to Reality Steve, the athlete works at Lululemon in San Diego, and does personal training, too. Another unexpected detail? Planeta actually played college basketball at Point Loma Nazarene University, making him even more well-rounded than we thought!
Everything to know about Mike Planeta
Apart from Mike's love of sports, he has a soft side too (and we're here for it!). As per ABC, he "grew up in a very loving family" and he's "always been a one-woman type of guy." Not anywhere near "player" status, he never had much time for dating until now — and he's definitely looking to find the one. Now that he's officially retired from baseball, he's looking to find "the missing piece in his life," and yes, we're melting! And although Planeta is known for his sizzling good looks as seen on Instagram, his personality is a 10 out 10, too. Self-described as "easygoing, social, goofy and disciplined," he's bound to see eye-to-eye with the adventurous, fun-hearted Katie.
So what is Mike looking for in a woman? According to ABC, he wants his future honey to be as active as him, with a seriously-funny streak and similar values. As seen on Planeta's IG, he is devoted to his Christian faith, writing on his bio: "Jesus | Family | Dogs" and "Ecclesiastes 12:1" a Bible verse about honoring faith throughout youth (via Bible Hub). Although it is still to be seen if Katie will fit into Mike's ideals, she also has her work cut out for her with his family: Planeta has three sisters, and wants a partner his whole family will "absolutely adore." Whew!