This Is Why Jennifer Aniston And Justin Theroux Really Divorced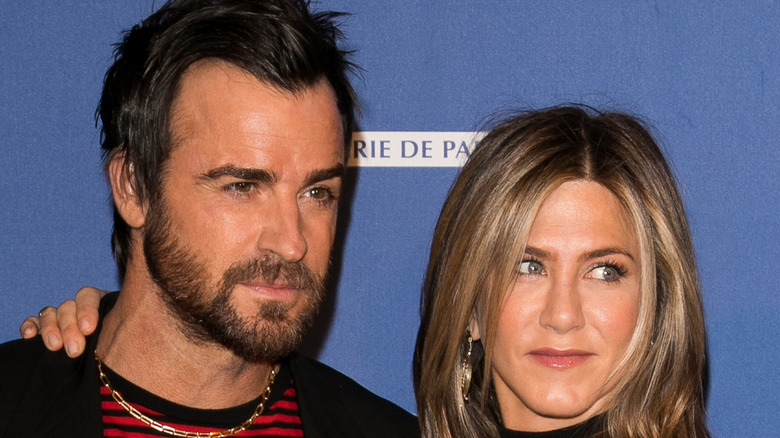 Marc Piasecki/Getty Images
Jennifer Aniston is one of the most beautiful actresses in Hollywood, she's had a stunning transformation, and her love life has proven to be almost as interesting as her acting career. The former "Friends" star has been in many high-profile relationships over the years as she's been publicly linked to comedian Jon Stewart, singer Adam Duritz, Tate Donovan, as well as her former co-star Paul Rudd (via Us Weekly). Aniston also briefly dated her "The Breakup" co-star Vince Vaughn, whom she later gushed over. "He was lovely and fun and perfect for the time we had together. And I needed that. And it sort of ran its course," she said. The "Murder Mystery" actress also previously dated musician John Mayer and actors Bradley Cooper and Gerard Butler. However, her marriages have been her most talked about relationships.
Aniston began dating actor Brad Pitt in 1998. The couple quickly became one of Hollywood's golden couples, and tied the knot in 2000. The pair split in 2005 after rumors surfaced that Pitt has cheated on Aniston with his "Mr. and Mrs. Smith" co-star, Angelina Jolie, whom he later married. Years after her divorce from Pitt, Aniston tried her hand at marriage again after meeting actor Justin Theroux. The two met in 2007 on the set of "Tropic Thunder," while she was visiting her pal Ben Stiller (via Insider). However, their romance didn't bloom until years later.
Jennifer Aniston and Justin Theroux are still friends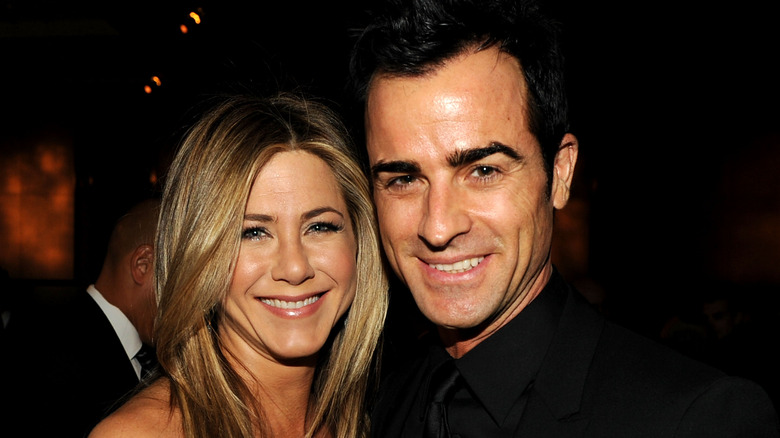 Kevin Winter/Getty Images
Although Jennifer Aniston and Justin Theroux met years prior, their romance reportedly didn't take off until 2011 (via Insider). In August of that year, the couple rented a home together in Hollywood Hills. In August 2012, Theroux proposed to Aniston while they celebrated his birthday. The couple eventually tied the knot in August 2015 in a small ceremony in front of famous friends such as Jimmy Kimmel and Ellen DeGeneres. In 2016, Theroux opened up about what made their relationship successful. "We appreciate each other's sense of humor, we respect one another, and we get along," he told Entertainment Tonight. "I know it sounds simple but it's true!" Sadly, in 2018 the couple announced that they were calling it quits.
Although the couple never officially confirmed the reason behind their divorce, sources told E! News that a big reason for their split was long-distance and their very different lifestyles. "He was a New York hipster that loved the alternative lifestyle, and Jennifer was living a much more reclusive life when they first started to fall in love," an insider dished. "They have always just been two very different people with very different characters who just happened to fall in love. He's more nomadic, more of a free spirit; he's rugged and urban, and Jennifer just isn't that kind of person." The difference were, sadly, enough for the couple to call it quits. Despite their split, Theroux has confirmed that he and Aniston are still in contact (they FaceTime, apparently) and are good friends, per Esquire.