How Does A HydraFacial Really Affect Your Skin?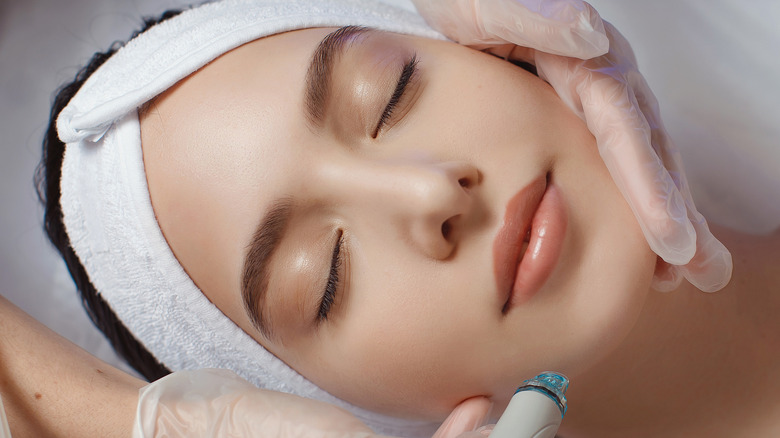 Shutterstock
Allure reports that every 15 seconds a HydraFacial is performed somewhere in the world; this means that every year 2 million treatments are performed. Clearly there's something special about this facial if it's getting that much attention, but what sets the HydraFacial apart from various other beauty treatments?
So, the HydraFacial might be exceedingly popular — but what actually is it? Allure explains that the HydraFacial is a "medical-grade" treatment that uses a hydradermabrasion tool that offers a patented three-part facial. The device cleanses the skin, exfoliates it, and then follows this by adding "intensive serums" to the skin.
What's great about the HydraFacial, as Resurge Clinic explains, is that while there are plenty of skincare treatments that promise skin that's smooth and healthy, "very few treatments that are as gentle, non-invasive, and effective" as the HydraFacial. Plus, while most treatments target one specific problem, like the onset of fine lines or dark patches of pigmentation, the HydraFacial tends to target a much wider range of problems.
Let's take a closer look at how the HydraFacial really affects your skin.
What are the benefits of a HydraFacial?
Shutterstock
What makes the HydraFacial so special? According to the Resurge Clinic, the HydraFacial offers a range of benefits, including reducing the appearance of wrinkles and fine lines, lightening dark patches, unclogging pores, helping to shrink enlarged pores, helping to manage acne, and reducing skin oiliness.
According to InStyle, the HydraFacial treatment begins with a cleansing phase where "the dead skin cells and any excess sebum" is removed from the skin. Following this, a combination of glycolic and salicylic acid is applied to the face to remove dirt, oil and unclog pores. The next step is for the HydraPeel Tip to gently suck out "blackheads, dirt, oil and impurities" from the skin, while also applying serums to the skin that "hydrate, plump and nourish."
What makes the HydraFacial so popular is the fact that it has minimal side effects and is suitable for use on all all ages and skin types.
L.A.-based dermatologist Dr. Anna Guanche explained to InStyle that a HydraFacial can improve skin in a range of different ways, including helping to mitigate the signs of aging. She says that "the treatment reduces fine lines and wrinkles, increases firmness, evens tone, texture, and brown spots, as well as reducing enlarged pores."