Here's Which The Ordinary Products To Use For Hyperpigmentation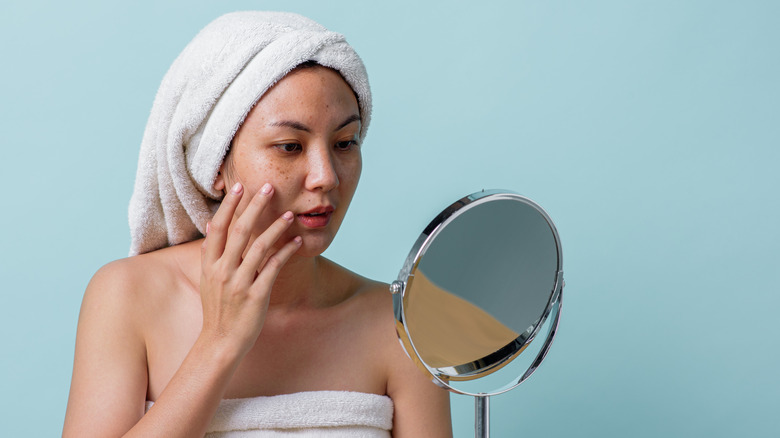 Shutterstock
The Ordinary has been a go-to skincare line for a lot of people. Not only are the products affordable, but the brand has been true to its claims in achieving better skin. Many people believe that skincare is an investment, and yes, that is true. But The Ordinary proved many people wrong about buying luxury products to get the best results. Literally no product from The Ordinary costs more than $20, and a lot of their best-sellers cost below $10 (via Glamour).
The brand has a wide range of products that address many skin concerns. Acne is the main skin issue that a lot of people stress over, and The Ordinary has several products to treat the skin condition, like the Niacinamide 10% + Zinc 1% or the Salicylic Acid 2% Masque, to name a few (via Skincare Hero). But what comes after acne? It's scars and hyperpigmentation. According to Healthline, sun exposure, melasma in pregnancy, certain diseases, and some chemotherapy drugs can also cause hyperpigmentation. Luckily, The Ordinary has products that help diminish dark spots. Yes, you have read that right — the brand offers a wide range of skincare treatments to fight skin discoloration.
These are the best products from The Ordinary to help with hyperpigmentation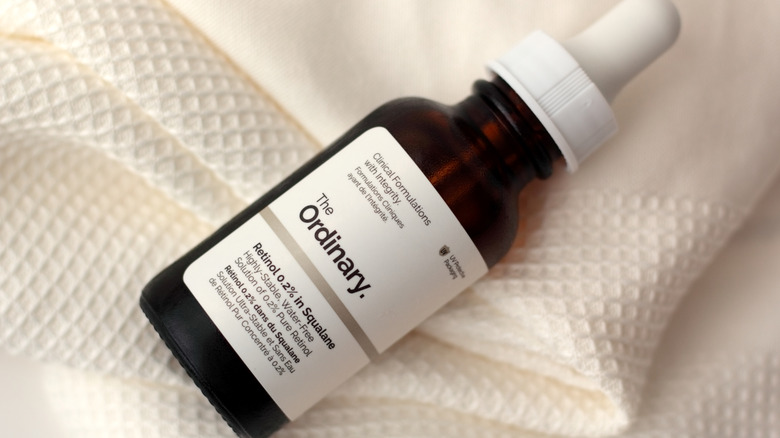 Shutterstock
Getting rid of hyperpigmentation is no easy feat, but dedication and the right products will help your dilemma. "Uneven skin tone can be addressed through the use of chemical exfoliants, such as topical acids and vitamin C," said Prudvi Kaka, chief scientific officer at DECIEM, which just so happens to be the company that owns The Ordinary. "Topical acids help to reveal more radiant skin beneath by loosening the top layer of the skin to slough off dull and rough skin. Vitamin C improves the appearance of dull, uneven skin tone by targeting melanin production, promoting a brighter, more even complexion" (via Byrdie).
The Ordinary has numerous vitamin C products, and the Vitamin C Suspension 23% + HA Spheres 2% is one of them. According to Deciem Chat Room, it is one of the best products for skin brightening. Hence, it can greatly reduce skin discoloration. If you're a fan of serums, then you'll love the Ascorbic Acid 8% + Alpha Arbutin 2%. The two ingredients are powerful in combatting hyperpigmentation and can also improve skin tone. Meanwhile, the Niacinamide 10% + Zinc 1% is another serum that many people like to use for acne. Apart from keeping the face blemish-free, the product can also prevent dark spots. To achieve an even skin tone, the Granactive Retinoid 2% Emulsion, the Retinol 1% in Squalane, and Alpha hydroxy acids can help you in this area. As for the Azelaic Acid Suspension 10%, the multitasker is another skin-brightening product that also helps improve skin texture.