Royal Insider Explains Prince Harry's Rocky Relationship With Prince Charles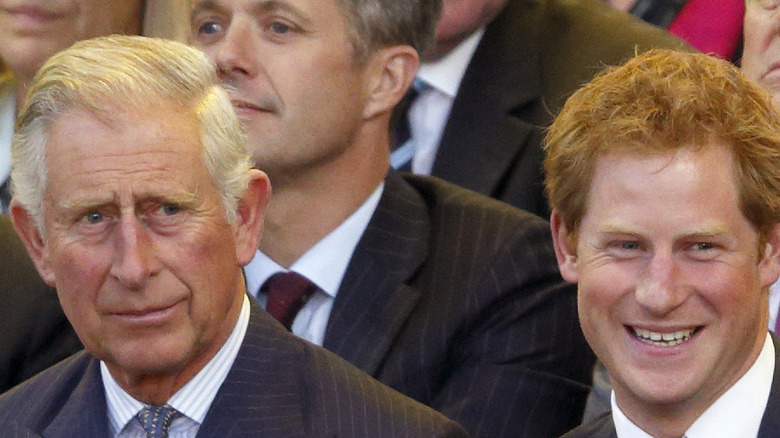 Max Mumby/indigo/Getty Images
Prince Harry's relationship with his father, Prince Charles, has been strained for months. The Duke of Sussex opened up about his relationship with his dad during a shocking tell-all interview with Oprah Winfrey in March 2021 (via E! News). Harry told the famed talk show host that he and his father had been (and continue to be) on rocky ground ever since he and his wife, Meghan Markle, revealed that they wanted to exit their duties within the royal family. During the interview, Harry admitted that once Charles found out about his plan to step away from royal life, he stopped taking phone calls from his son and asked Harry to correspond in writing. "He asked me to put it in writing, and I put all the specifics in there, even the fact that we were planning on putting the announcement out on the 7th of January," Harry stated, adding that he needed to leave "The Firm" for the well-being of himself, his wife, and son Archie (and new baby, Lilibet Diana).
"I feel really let down [by Charles] because he's been through something similar," Harry confessed, referencing Charles' turbulent marriage, divorce, and tragic experience of navigating Diana Spencer's death. "There's a lot of hurt that's happened and I will continue to make it one of my priorities to try and heal that relationship." Harry continued by saying that his father and brother, Prince William, "only know what they know," and that he has tried to educate them about his experience — but to no avail. Now, one of Diana's former friends is opening up about the rift between Charles and Harry.
This royal insider thinks there's hope for Harry and Charles' relationship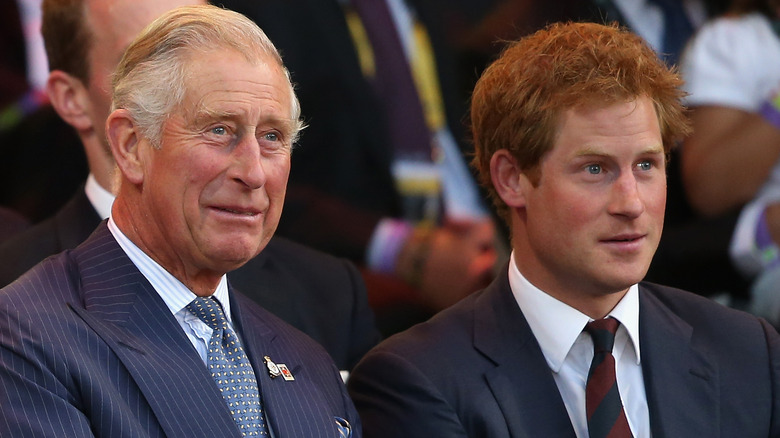 Chris Jackson/Getty Images
According to Us Weekly, it appears that Prince Harry's relationship with Prince Charles is still on shaky ground. However, one of Diana Spencer's former friends said there is always hope for reconciliation. Diana's former voice coach, Stewart Pearce, said that the rift in the royal family may very well work itself out with the passing of time. 
"Charles is well known for distancing himself from emotional heightened situations as he is a very caring, sensitive man, and therefore chooses to wait to let strong feelings settle down before responding," Pearce told the outlet. "As far as Meghan [Markle] and Harry were concerned, they were 'troubled' by the lack of support received from the 'men in grey suits,' namely the household staff, and then the unfortunate lapse of contact with his father," he added.
In the time that's passed since the Duke and Duchess of Sussex left the royal family, Harry and Charles have only seen each other in person one time, at the funeral of Prince Philip. Many fans were hoping that the family would mend fences then. However, insiders claim that wasn't the case. 
"Unfortunately, Harry and Charles didn't resolve their differences when Harry returned to the U.K. They barely communicated," one source told Us Weekly. However, Harry is expected to return to the United Kingdom in July 2021 for the unveiling of Princess Diana's statue, and with Harry and Meghan's brand new baby daughter to gush over, the family may just find some common ground.