The Bachelor's Courtney Robertson Has Exciting Family News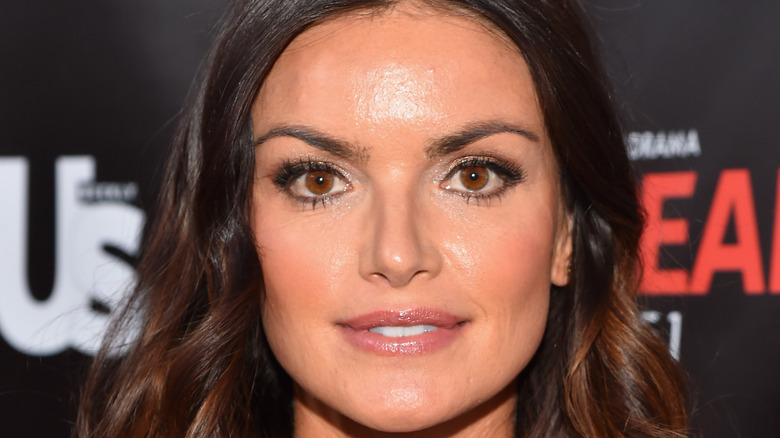 Alberto E. Rodriguez/Getty Images
It was only a year ago that "The Bachelor" alum Courtney Robertson welcomed her first child, a son named Joaquin, with her fiancé Humberto Preciado (via People). Now, the family is expanding again, with the reality star announcing she is expecting a second baby (via Daily Mail).
Eight months ago, Robertson said "I do" to Preciado — at a small wedding due to COVID-19 restrictions — according to AZ Central. By the time they celebrate their first anniversary, she will be ready to pop, with the former flame of Bachelor Ben Flajnik (remember him?) sharing on her Instagram that their little one is due on December 15, 2021.
Robertson also shared the baby's gender in the same post, writing, "It's a GIRL." She jokingly added, "The only thing growing faster than my belly is my heart." As it turns out, the soon-to-be mom of two really wanted to have a daughter, and is already making plans for her little girl.
Courtney Robertson is looking toward the future after her Bachelor past
As Robertson told People about expecting a daughter, "I can't wait to do all the girly things with her." She also quipped about Preciado, "Dad has been joking that he and Joaquin can't wait for her first date."
In the meantime, it seems the mama is enjoying her final months as a mom of one, sharing on Instagram about Joaquin's first year, "It continues to blow my mind how fast time flies."
Indeed, since fans will remember how Robertson became engaged to Flajnik on his season of "The Bachelor" in 2012 — yes, it's been that long (via Us Weekly). The couple said "I don't" soon after the show aired, calling off their engagement. Things ended badly, to put it mildly, with Flajnik saying about Robertson's book, "I Didn't Come Here to Make Friends," "It's sad. A new low, even for Courtney."
Previously, as the star revealed in the tome, she also dated Jesse Metcalfe of "Desperate Housewives" fame, as well as Adrian Grenier (via People).