How To Recreate Lucille Ball's Makeup Style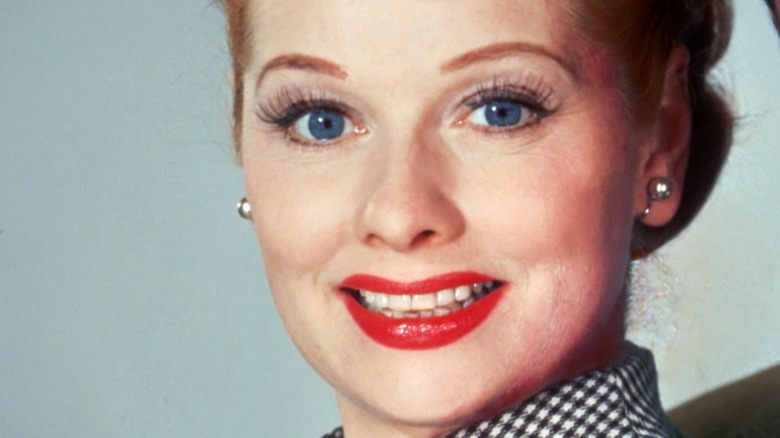 Michael Ochs Archives/Getty Images
When people think of Lucille Ball, they think of that iconic zany redhead famous for her pratfalls, an actress who was the center of a whopping five comedy television series (via IMDb), first in black-and-white and then in color. Even in black-and-white, Ball's makeup always looked impeccable. After all, before she became a television legend, she was a Hollywood starlet.
In fact, that zany redhead was born a brunette and later became a blonde bombshell as she colored her locks platinum to make it in movies. Like any young actress of her time, she strived for the perfect look, and when she hit it big, her makeup became almost as recognizable as her hair — and her signature sense of humor. In fact, the makeup artist on "I Love Lucy," Max Factor, went on to start his own cosmetics line. It was Factor who turned her into a redhead, according to The Huffington Post. So, how does one create that classic makeup style?
Start with foundation and the eyebrows to create Lucille Ball's signature look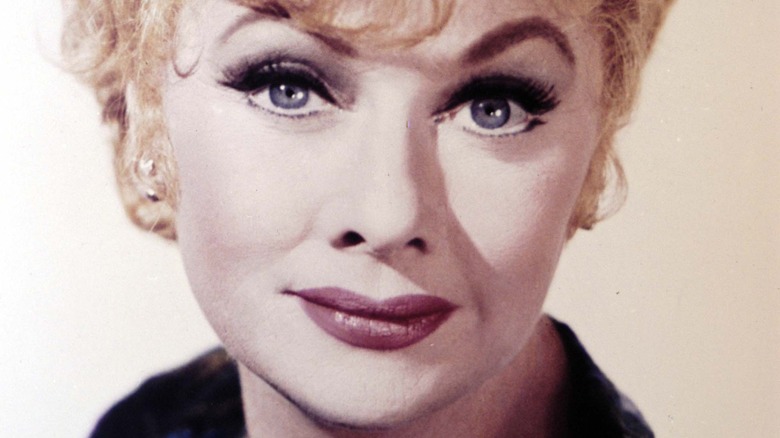 Photoshot/Getty Images
Not all women wear foundation, as some choose a more natural look, but foundation can also be the palette an artist paints on. MAC senior makeup artist Romero Jennings told Seventeen to start with a matte foundation as the first layer and then add pressed powder to finish the makeup base. Then, move on to the color and shape of the facial features.
"The three key features to create a Lucille Ball look are the arched brows, spidery lashes, and stylized pink lips," Jennings said. Indeed, that is what many minds conjure up when envisioning the comedic star, whether in color or on "I Love Lucy" in black-and-white.
To achieve that arched brow, Jennings recommends first using MAC Eyebrows pencil in Spiked. After applying that, add another layer using MAC Eyebrows in Lingering. The first is a warm red and the second is a light taupe brown. These pencils should allow you to elongate the brow so that it's thicker toward the bridge of the nose and sharper in the outer corners. For that red tone, finish the brows with MAC Brow Set in Boy Girl.
The lashes and the lips help complete Lucille Ball's makeup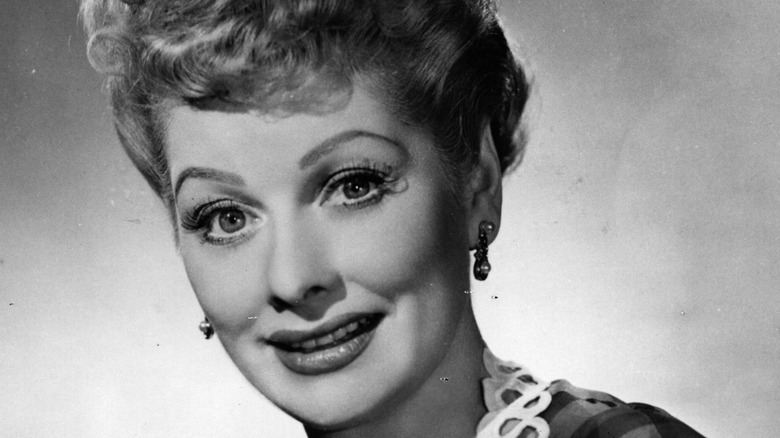 Evening Standard/Getty Images
For those long, noticeable, feathery lashes, Romero Jennings noted in Seventeen to first use eyeliner on the upper lashline. Then, add jet black mascara to both the top and bottom lashes and MAC Cosmetics 34 Lash to the top lashes, before also lining the waterline. A kohl pencil lining the bottom lash then creates that wide-eyed look Ball was famous for. 
Finally, we get to the pouty lips that were all the rage in the 1950s and which have made a comeback in the 21st century. Of course, these days, many women simply opt for surgery and not makeup to achieve those full lips. But if you want to try it the Lucy way, line the lips in magenta, carefully creating that famous cupid's bow Lucy was known for. Then use the pencil as a base color on the lips. After finishing with the pencil, add a pink lipstick, and you have the iconic Lucille Ball makeup look you've always wanted.