How Much Is Paul Klein From LANY Worth?
Formed in Los Angeles in 2014, indie-pop trio LANY have got themselves a dedicated following of loyal fans over the years. They've supported some of the biggest names in pop on tour, like Halsey (via PopBuzz), and their most recent album, 2020's "Mama's Boy", reached no. 7 and no. 22 in the U.S. and U.K. charts respectively (via Billboard; Official Charts), so it's fair to say that they've been pretty successful so far. 
Of the three band members, lead singer Paul Klein is perhaps the most well-known. The 33-year-old made the headlines across 2017 and 2018 for his relationship with pop megastar Dua Lipa, per Daily Mail, and doesn't shy away from interviews. In one such chat with GQ, he spoke out how — despite his band being based in L.A., and the name LANY even being an acronym for "Los Angeles New York" — he was actually born and raised in Oklahoma, far away from the glitz and glamour of California city life. According to Teen Vogue, the band didn't always have it easy in their early days either, sharing a one-bedroom apartment and making all of their songs on one Dell computer. However, LANY are certainly a more familiar name now, and with Klein being the most prominent member, just how much is he worth today?
He only started making money from music in 2015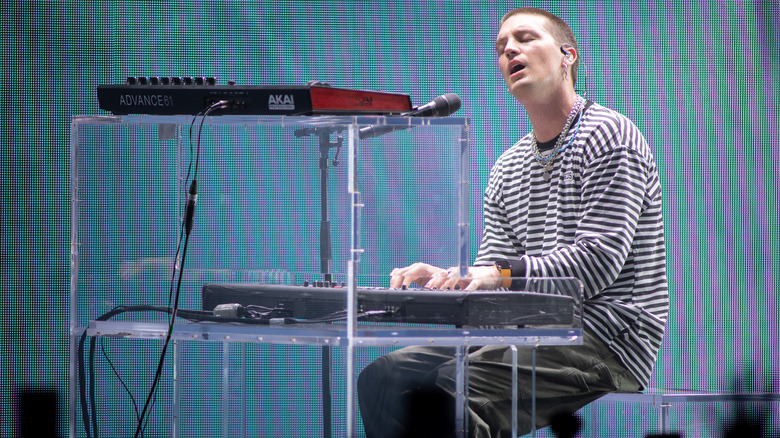 Miikka Skaffari/Getty Images
According to Idol Net Worth, Paul Klein has a net worth of around $1.5 million. This is in no small part down to LANY's big cult following crossing over into mainstream appeal — per GQ, the band get about 10 million Spotify streams each month, as well as over 2 million followers across their social media accounts. Merchandise and tour tickets are also certain to sell out fast, giving the trio a little extra income too.
There's a lot you can do with one and half million bucks, but it looks like the LANY frontman has his feet still firmly on the ground. Klein told GQ in 2020 that he first made money from being a musician in 2015, with the LANY guys all having various other jobs — including being a Deliveroo driver — up until that point. "At the top of 2018 we got a really nice surprise check because we'd played 135 shows in 2017 and the tour had gone really well," he revealed, "so I went out and bought myself my first Rolex." Will there be more Rolexes to come?