This Is What Bachelorette Tayshia Adams Eats In A Day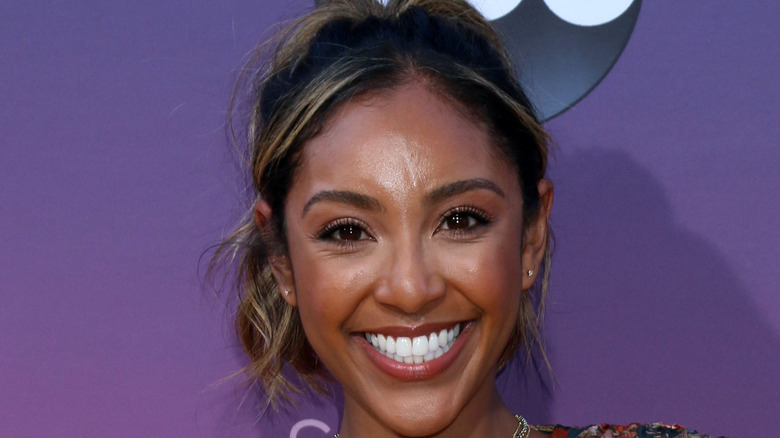 Shutterstock
Tayshia Adams has been a familiar face on our TV screens over the last couple of years, first appearing as a contestant on "The Bachelor" and "Bachelor in Paradise" in 2019 before getting the starring role on season 16 of "The Bachelorette" last year (via IMDb). Before becoming a fixture of reality TV, the 30-year-old got a bachelor's degree in biology medical science, and worked as a phlebotomist (via Distractify). 
In 2016, she was married to Josh Bourelle, but they were to divorce a year later in 2017 (via US Weekly), while at present Adams is engaged to and lives with Zac Clark — the winner of her "Bachelorette" season. Recently, she spoke to Women's Health to share just what she eats in a day, and offered a glimpse into what both her and Clark eat together as a couple too. While it's fair to say that she can have a sweet tooth, there are a lot of vitamins and nutrients in there too — here's what Tayshia Adams eats in a day. 
She'd eat ice cream 'every single day' if she could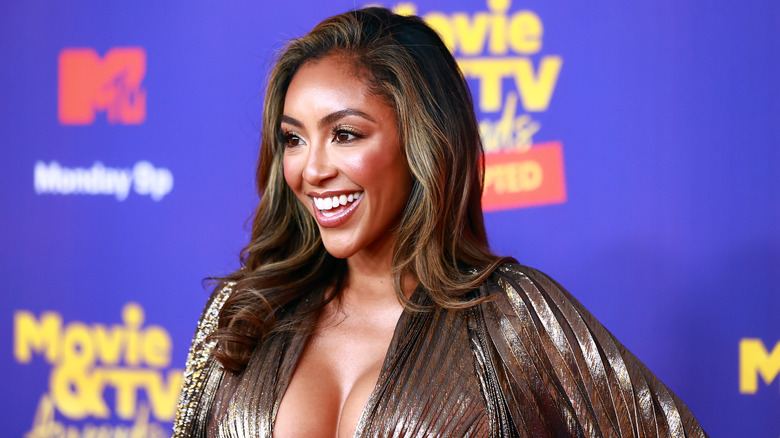 Matt Winkelmeyer/2021 Mtv Movie And Tv Awards/Getty Images
Tayshia Adams starts off her day by drinking celery juice and lemon water, she tells Women's Health, after ditching her morning coffee in favor of the former. She then exercises before breakfast, which is often a smoothie. She makes her smoothie from ingredients like milk, spinach, fruit, chia seeds and a scoop of collagen or protein powder. For lunch, she will often opt for a salad, which she prepares herself. She likes to cut up a rotisserie chicken or alternatively use chickpeas for her protein, and includes myriad other ingredients too, from peppers, cucumbers and dried cranberries to a range of mixed greens and her own dressing. Between lunch and dinner, she continues to stay pretty healthy, going for some more peppers or carrots with hummus — however, she says that she likes snacking on chips and salsa too, and a couple of offerings from Trader Joe's. 
A fan of cooking, Adams has been doing it less since moving into her fiancé's apartment — instead, they've been going out, trying the best Mediterranean food and pasta New York has to offer. However, when she does cook herself she'll often make a stir fry for dinner — with green beans, cabbage, shallots, mushrooms, garlic, chili and rice — a butternut squash soup, or salmon with rice and vegetables. However, it's not all healthy, as Adams' one true food love is ice cream — she'd eat it "for breakfast, lunch and dinner."