Carb-Free Burger Bun Ideas You Need This Grilling Season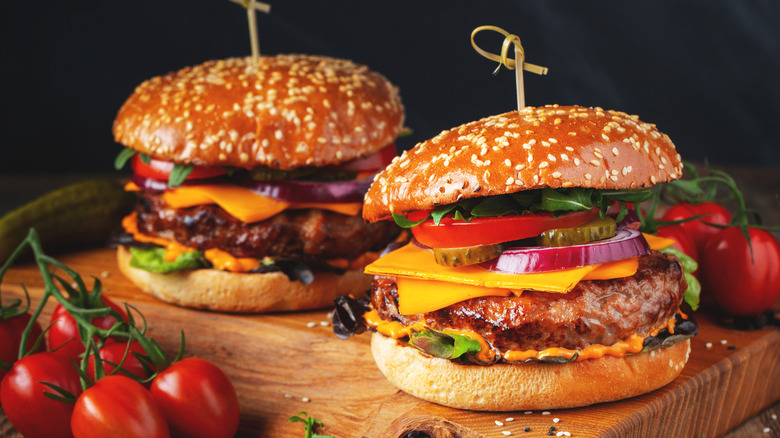 Shutterstock
Low-carb diets come and go every year. People often think carbs are the reason they can't lose weight, or maybe they just feel too bloated when they eat them. Or, perhaps, they can't have gluten, which shelves a lot of carbs from those who are affected by carb-related illnesses. In any case, an increasing number of carb-free products are hitting store shelves, and people are always being crafty while finding new ways to make their favorite foods with less carbs. Now that it's summer, people are thinking this way about burgers and all their favorite summer foods, so let's break down some fun carb-free burger bun ideas for 2021.
Some people are making homemade carb-free buns this year. These buns align with the Keto diet, on which people eat less carbs but eat more fats. One recipe from The Big Man's World, for example, uses almond flour instead of wheat flour as the main starch in the buns, while others from Gnom-Gnom employ flaxseed meal, whey protein, and psyllium husk to achieve the same texture as standard burger buns. These recipes' pictures look delicious, so we have no doubt that any of these recipes is worth a shot.
These vegetable choices for buns may surprise you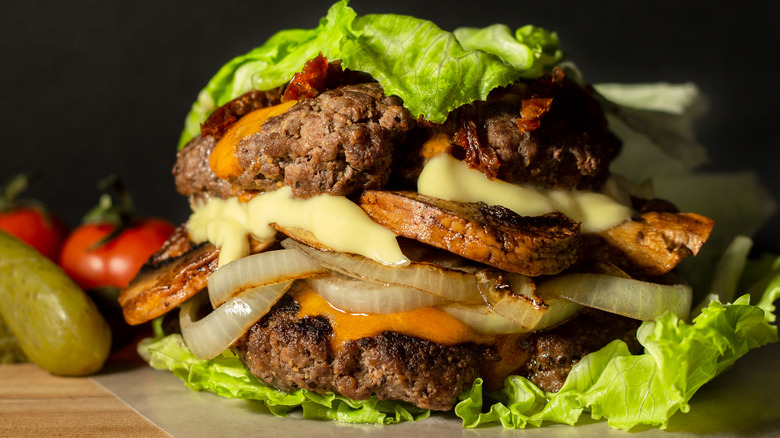 Shutterstock
If you don't want to make your own burger buns, you've still got options. Lettuce as a bun stands the test of time, and it's classic for a reason. It offers a nice crunch, and it's refreshing, which is a nice contrast to the heaviness of a burger. Moreover, lettuce can give you fiber, potassium and Vitamins C and K (via UPMC). You can go with iceberg or something with more flavor, so you really get to choose your own adventure when it comes to lettuce buns.
UPMC generally recommends vegetables for buns if you aren't making your own carb-free buns. Outside of lettuce, they recommend using portobello mushrooms, eggplants, and even red bell peppers as buns. Each of these will give your burger a unique flavor, and each will provide its own unique nutritional benefit. For example, portobello mushrooms give you a lot of fiber, and UPMC notes that their texture will closest to the burger's, if that's something you're interested in. Meanwhile, red bell peppers carry Vitamins A, B6, and C along with magnesium, while eggplants hold a ton of different vitamins and minerals, too.
One of the most promising vegetables to use as a burger bun is likely the cauliflower. While you'd be using the other vegetables whole, cauliflower could be ground up to create a bun, as suggested by Delish. After all, cauliflower has been proven to be incredibly versatile over the last few years.