Inside Leslie Grace's Relationship With Dancer Ian Eastwood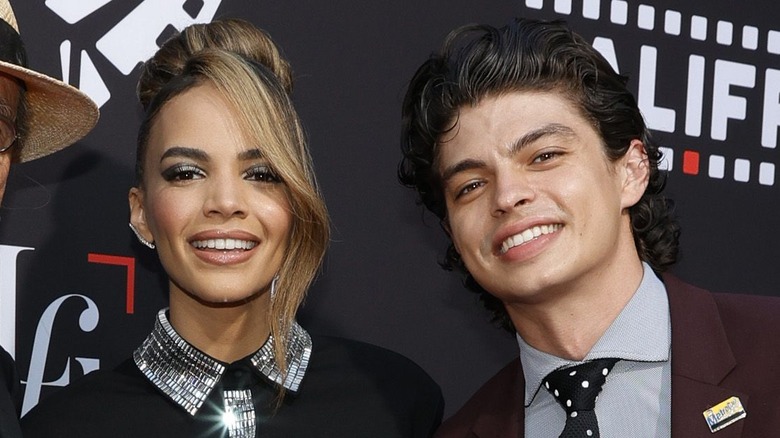 Amy Sussman/Getty Images
Leslie Grace and Ian Eastwood's stars are on the rise, and they're taking the world by storm — together. Grace has been in the music industry since 2009 and made it big in 2013 with the release of her self-titled album, and now she's starring in Lin Manuel Miranda's "In The Heights," which is slated for a June 11, 2021, release (via ET Online). 
Eastwood, on the other hand, is a dancer and choreographer. Born in Chicago in 1993, Eastwood fell in love with dance as a child. According to his website, Eastwood learned choreography for Michael Jackson's "Thriller" at a young age and told his mother, "Mama, I wanna do this for the rest of my life," when the session ended. Since then, Eastwood has only honed his skills increasingly sharper, training in dance forms ranging from hip hop to ballet and jazz. At only 16, Eastwood traveled the world to teach dance — all while maintaining a popular YouTube channel — and his name became cemented as a world-class dancer and choreographer.
The pandemic may have separated them, but their love never faltered
According to People en Español, Leslie Grace and Ian Eastwood have been dating since 2019. While they do maintain a lot of privacy in their relationship, the two occasionally post photos together to their Instagram accounts to show off their happiness and keep fans engaged. For example, in April 2020, Grace posted a sweet caption on Instagram to celebrate Eastwood's birthday. The two were separated, presumably because of COVID-19 lockdown procedures, but she proved that true love can withstand any outside forces. She wrote, "You are so worthy of every ounce of love you receive today and everyday," before adding, "I love you and I miss you. Happy birthday my wonderful boy" (via People en Español).
The two are adorable together, and it turns out that they can work together well, too. Earlier in 2021, Grace released the song "CONGA," a reimagining of the Gloria Estefan classic, and Ian Eastwood directed its music video, per Distractify. The track, which also features rapper Meek Mill, was a full circle moment for Grace, as the singer was always inspired by Estefan. Having her partner on board with the project likely only made it that much sweeter.
Overall, these two lovebirds are as cute as they come, and we hope they're able to revel in this sweetness for years to come.