How Khloé Kardashian Really Felt About The Spinoff Show Khloe & Lamar
Shutterstock
Khloé Kardashian is beloved for her down-for-anything, fun-loving personality. It's through her various reality shows that we've seen her personality shine, both with her famous sisters and romantic partners. For fans, one of the most beloved Khloé-led series was "Khloé & Lamar," Kardashian's former series with ex-husband Lamar Odom. The series first aired in 2011 and lasted for just two seasons, into late 2012 (per IMDb).
"I never wanted to do 'Khloe & Lamar'; my ex-husband did," Kardashian shared in a Hollywood Reporter feature. "He sold it to E!, and I let it happen because I wanted him to be happy."
For those who have followed the Kardashian/Odom saga, it's not too surprising. Fans were aware Kardashian could tell her marriage was in trouble far before she publicly admitted it, something she revealed in layers throughout subsequent seasons of "Keeping Up With The Kardashians".
Khloé knew where she had to draw the line with the show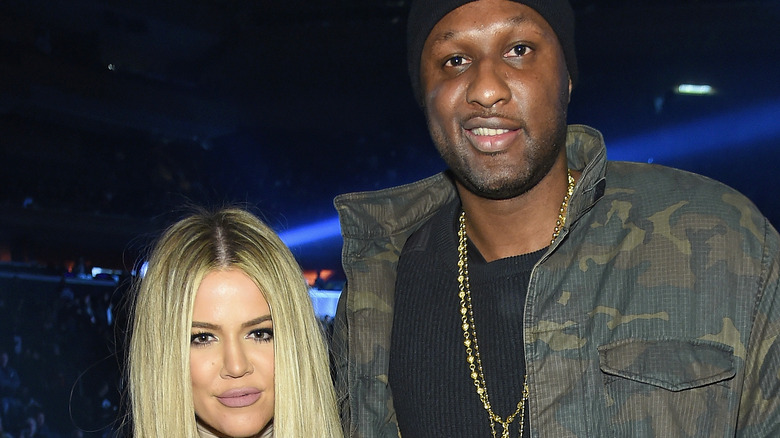 Jamie Mccarthy/Getty Images
Khloé Kardashian has no shame in the fact that she put an end to her and her then-husband's spinoff. "I was the one who canceled it. It was way too much," she said. 
While Lamar Odom's various struggles are well-documented, the Kardashians have often been criticizing for exploiting those in their lives and Odom was no exception. There were rumors that cameras were filming when Kardashian rushed to be by Odom's side after his 2015 overdose (per Mirror.uk). However, co-president of entertainment & development at Bunim/Murray Jeff Jenkins says that when it came to that time, they followed Kardashian's instructions.
"We deferred to Khloé on what she was comfortable with, because someone's life was hanging in the balance and that someone is a hero to a lot of young people," Jenkins told the Hollywood Reporter. "It wasn't necessary to go stick a camera in Lamar's face while he's on death's door in the hospital. It's just too much, so I guess, in a way, there is a line."
Lamar recently looked back fondly at the series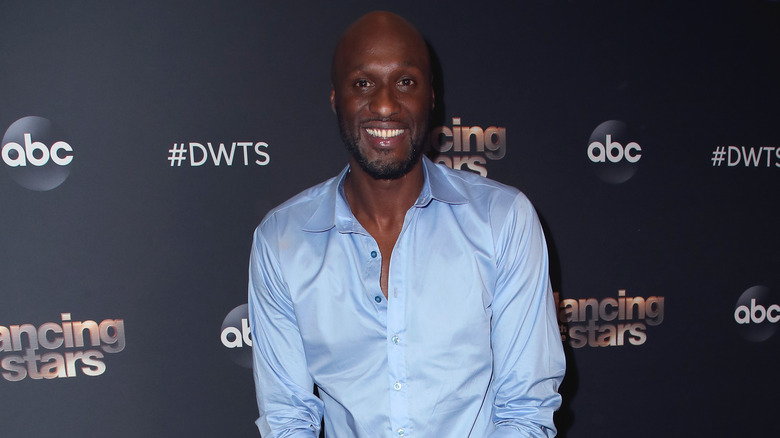 David Livingston/Getty Images
Lamar Odom hasn't always had the nicest things to say about Khloé Kardashian. Though he's shown gratitude for her and the Kardashian family on multiple occasions, there have been just as many where he (and at times, ex Sabrina Parr) have slammed the family.
Recently, however, Odom took a trip down memory lane by watching "Khloe & Lamar". He shared a video to Instagram revealing he was marathoning the show. "My show with my ex wife I want to thank @krisjenner @khloekardashian @kimkardashian @robkardashianofficial @kourtneykardash for taking me in and loving me without judgement," he captioned the video. "Y'all gave me family and for that I am forever grateful."
Odom has been out of touch with the Kardashians for some time, but it hasn't always been easy for Khloé to get that through to the rest of the family. Shortly after deciding to move on from that chapter in her life, there was a backstep when Kris Jenner gave Odom Khloé's number. "It infuriates me and it hurts my feelings. I love that love that she has for him but sometimes you have to keep relationships separate," Khloé said (per People).
"I feel like he needs us," Jenner would later say. "Lamar doesn't have a lot of extended family so when he reaches out, I'm going to respond. That's what my heart tells me to do."