Meryl Streep Has A Hidden Connection To Carrie Fisher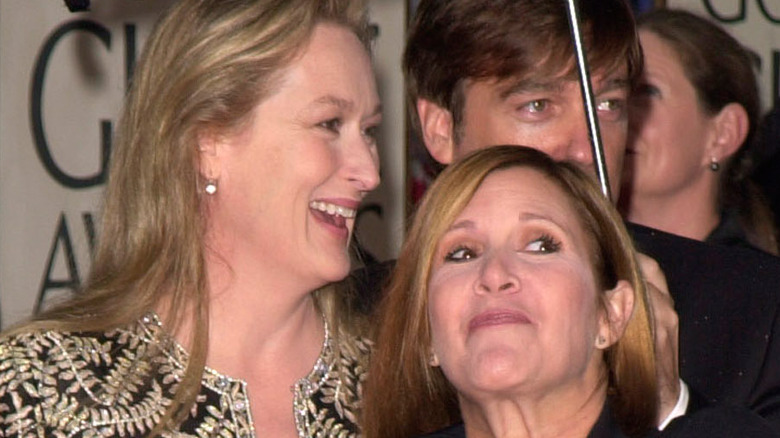 Shutterstock
We may receive a commission on purchases made from links.
They may have never appeared in a movie together, but that doesn't mean Meryl Streep and the late Carrie Fisher didn't have a movie experience that spilled over into a deep and meaningful personal connection. It started with Fisher reflecting on her life, her regrets, and growing up in Hollywood with a celebrity mom. She decided to write a book about it — with semi-fictional characters, of course, according to Biography.
Fisher is the daughter of Debbie Reynolds and Eddie Fisher. While her parents divorced when she was young and her father died not long after, Fisher still had a celebrity mom to grow up with. Fisher herself went on to achieve stardom as a young woman when she became Princess Leia in the iconic "Star Wars" series (via Biography). But she always had an interest in writing, and ended up publishing six books during her lifetime, according to Amazon. When she wrote "Postcards From The Edge," published in 1987, she based it on herself and her relationship with her mother. In 1990, the book was made into a feature film, and that's where Streep comes in (via IMDb).
A best-selling book and a hit Hollywood movie brought Meryl Streep and Carrie Fisher together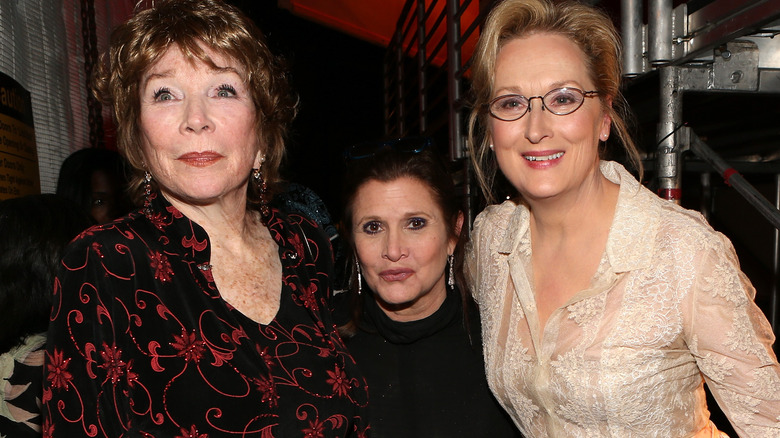 Christopher Polk/Getty Images
In "Postcards From The Edge," character Suzanne Vale, who was an actress, grew up with a celebrity mother, found her own fame early in life, and then struggled with addiction, just as Fisher did. When Suzanne is released from rehab, her flamboyant mother takes her in and their relationship is examined. Suzanne is the Carrie Fisher character, while mother Doris is loosely based on Debbie Reynolds. Meryl Streep – who's had a stunning transformation — played Suzanne and Shirley MacLaine was Doris (via Rotten Tomatoes). That was the beginning of a beautiful friendship. In fact, Fisher and Streep became so close thanks to "Postcards," that she made Streep godmother to her daughter, Billie Lourd, according to TheThings.
In 2004, The American Film Institute gave Streep a Lifetime Achievement Award and Fisher was there to pay tribute. This is the story Fisher told about her friend.
"So, I was staying with Meryl last summer for a few days when she asked me to help her out in her garden. It seemed that a certain type of bug was shamelessly eating her raspberry plants, and something had to be done and quickly. It appeared Meryl and I were gonna have to kill some insects. She was this vicious bug crusher without conscience. I learned something that day: don't mess with Meryl." (via Cheat Sheet)
Years later, at Fisher's memorial in 2017, Streep sang "Happy Days Are Here Again," according to Global News – a beautiful tribute to a meaningful friendship.