The Legendary Moment When Rachel Broke Character On Friends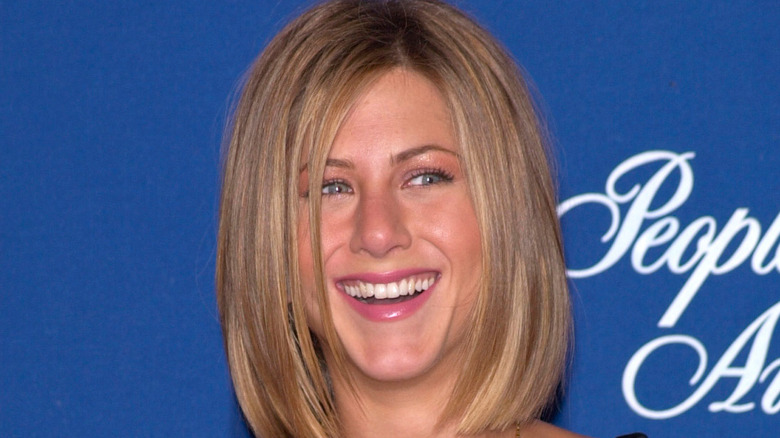 Shutterstock
When six celebrity friends got together on the set of "Friends" in May of 2021, fans could see how close they were once upon a time when taping their iconic sitcom for 10 years. The "Friends" reunion showed us a myriad of memories and outtakes, but one hilarious moment from the set has become legendary, as Jennifer Aniston's real-life laughter became Rachel Green's reel-life laughter when it made it on-screen.
It's the very end of the episode titled "The One With Joey's New Brain," but the scene had nothing at all to do with Joey Tribbiani (Matt LeBlanc) nor his brain — old or new (via Digital Spy). Instead, Ross Geller (David Schwimmer) decided he wanted to play the bagpipes for Chandler Bing (Matthew Perry) and Monica Geller's (Courteney Cox) upcoming wedding and as such, did a little audition for his sister and three of his four best friends in Rachel and Monica's living room. What happened next was pure comedy gold.
Rachel's the first to crack in this hilarious bagpipe scene
In the script, Ross Geller played "Celebration" by Kool & the Gang, a song often played at weddings, but not typically on the bagpipes. Lisa Kudrow's Phoebe Buffay was supposed to chime in by humming the song very badly, but when she started, the cast couldn't keep it together (via HelloGiggles). Jennifer Aniston was the first to crack a smile, and when she looked over at Matthew Perry and Courteney Cox, all three lost it. Kudrow attempted to keep on singing, but eventually she cracked up too and the friends just couldn't stop.
In the scene that aired (and not the blooper), Ross started playing those horrible sounds on the bagpipe, Phoebe started humming, and you can see Aniston's first crack of a smile from the outtake in the scene. However, when she looked at Chandler Bing and Monica Geller, they both had straight faces and told Ross with a point-blank "no" that he would definitely not be playing the song at their weddings — especially on the bagpipes.