The Truth About Hillary Clinton And Chelsea Clinton's Relationship
Spencer Platt/Getty Images
Chelsea Clinton grew up in the public eye, becoming the first daughter of the United States when she was just shy of 13 years old in 1993. She already knew what political life was like as she was born when her father, Bill Clinton, was serving his first term as governor of Arkansas (via Biography). Both Chelsea and her mother, Hillary Clinton, have undergone much scrutiny through the years, but their mother-daughter relationship remains strong.
Strong is a word one can use to describe both women, as well. And gutsy is a word they use to describe generations of women in general. In fact, Hillary and Chelsea Clinton co-authored a book in 2019 called just that, "The Book of Gutsy Women." Publisher Simon and Schuster describes the book as such: "Hillary Rodham Clinton and her daughter, Chelsea, share the stories of the gutsy women who have inspired them — women with the courage to stand up to the status quo, ask hard questions, and get the job done."
Hillary Clinton told Stylist that the idea to write this book has been kicking around since her daughter was a small girl and they spoke of their role models and those who brought them inspiration.
Hillary Clinton and Chelsea Clinton share a close relationship with different experiences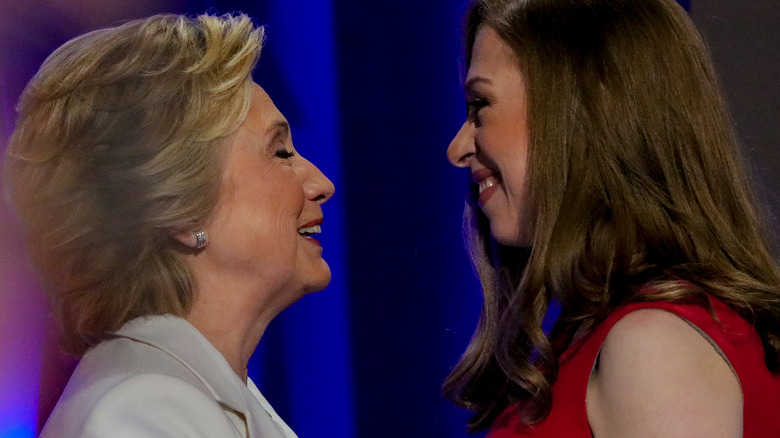 Shutterstock
As females, both Hillary Clinton and Chelsea saw different worlds when growing up, as women's roles have changed from generation to generation. "We came of age at very different times; I didn't know any women who worked outside the home other than my teachers and librarians. So I was constantly looking for inspiration in magazines, in fiction, reading about unusual paths that women had taken," Hillary Clinton told Stylist.
Chelsea remembers things differently, as her teachers and librarians were women, and even the mayor of Little Rock, where they lived. Hillary herself was a pioneering woman and role model for her daughter, working outside the house as an attorney before the family made the move to Washington D.C.
After growing up in the public eye, Chelsea went on to graduate from Stanford University and received a master's degree from Oxford (via Biography). As of 2021, she is a mother of three and an author, with her most recent solo book as of this writing being "She Persisted" (via Penguin/Random House). As both Clinton women told Stylist, the dynamics of their relationship came out when collaborating on "The Book of Gutsy Women."
Chelsea Clinton and Hillary Clinton are in constant contact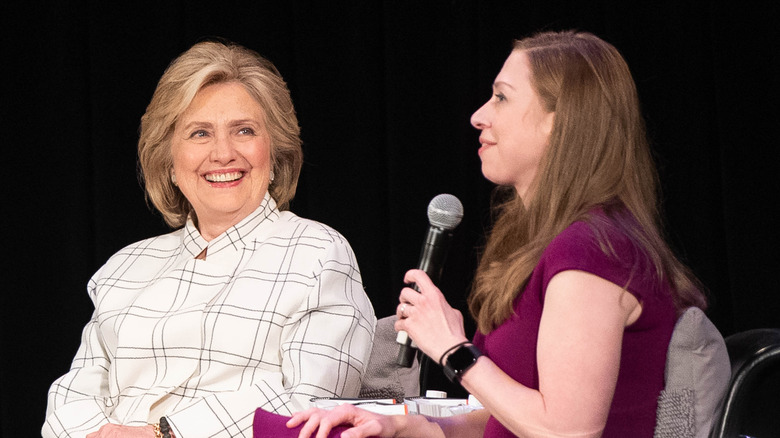 Emma Mcintyre/Getty Images
While both Chelsea Clinton and Hillary Clinton admit they had some healthy arguments while writing their book together, it did not do damage to their mother-daughter bond. In fact, if they don't speak every day, they are at least in contact in one form or another.
"It's texting, emailing, speaking and visiting. I'm just so grateful that she lives close enough that I can come see her all the time, which I do" (via Stylist).
In the same interview, Chelsea told the outlet that it's usually about Hillary's grandchildren; Chelsea's three kids are Charlotte, Aiden, and Jasper (via Today). She also admitted that seeing her mother as a grandmother has given her new respect for the woman who was the first female major party nominee for president of the United States.
"Seeing my mom with her not only immediate love, but her immediate caring for our children, from the second they were born, and how involved she is in both the glamorous parts of being a grandparent — like getting to spoil them despite my best efforts to the contrary — but also being so willing to help clean up after them or change a diaper. It's a gift" (via Stylist).