The Truth About Phoebe Dynevor And Rege-Jean Page's Relationship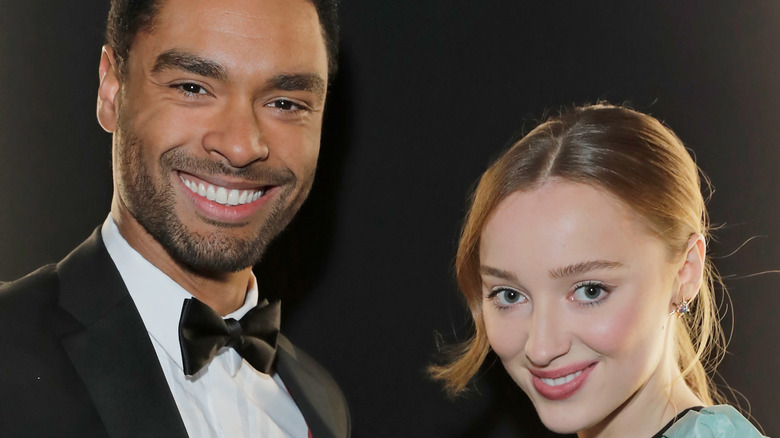 David M. Benett/Getty Images
As Daphne Bridgerton and Simon Bassett, Phoebe Dynevor and Regé-Jean Page stole the hearts of viewers across the globe. Their burgeoning romance was what made the first season of "Bridgerton" so popular, propelling it to the must-see series it has become. But what about the relationship between the actors who portray them?
When the series premiered in December 2020, rumors of an actual romance between Phoebe Dynevor and Regé-Jean Page began to circulate. The chemistry the two share on screen is palpable, so it's unsurprising that many believed that Dynevor and Page could be an actual couple off-screen. But as quickly as those rumors started, they were fanned by both actors in various interviews.
Following the second season renewal of "Bridgerton" in early 2021, Dynevor was inevitably asked about the gossip. The actress promptly shut them down, explaining to You Magazine that their relationship has always been "strictly professional."
Page attributes his on-screen chemistry with Dynevor to Bridgerton's scripts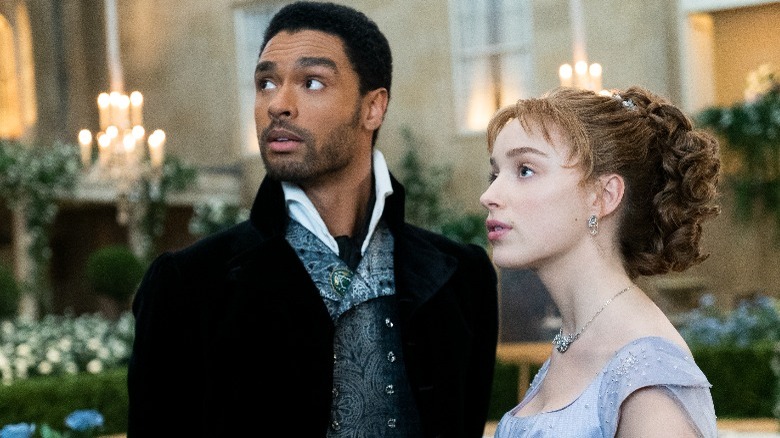 Liam Daniel/Netflix
"I'd love to say there was really something between us, but no, it has always been strictly professional." The actress went on to explain that "there was so much pressure on us to get it right that it was all about the work," so her connection to Page was more of a "professional working relationship."
As much as she gets on with her on-screen significant other, she's relieved that it didn't happen. "I'm glad for that, actually," Dynevor explained. "It would be very complicated if it went further. I always hear about people falling in love with their costars ... It's yet to happen to me, but I'm intrigued."
Page also addressed the rumors in an interview with Access (via YouTube), attributing their electric chemistry to the scripts. "I think everything you need to know is on camera. That's why we presented it so beautifully for you," he explained. "All the sparks that flew off the beautiful scripts that we were handed, and so I think that the sparky scripted material are more than enough."
Anyway, both actors are happy in their own relationships. Page is dating copywriter and part-time soccer player Emily Brown (via Heatworld), and Dynevor is rumored to be in a relationship with "SNL" star Pete Davidson (via Insider).