This Makeup Influencer Has A ColourPop Cosmetics Collection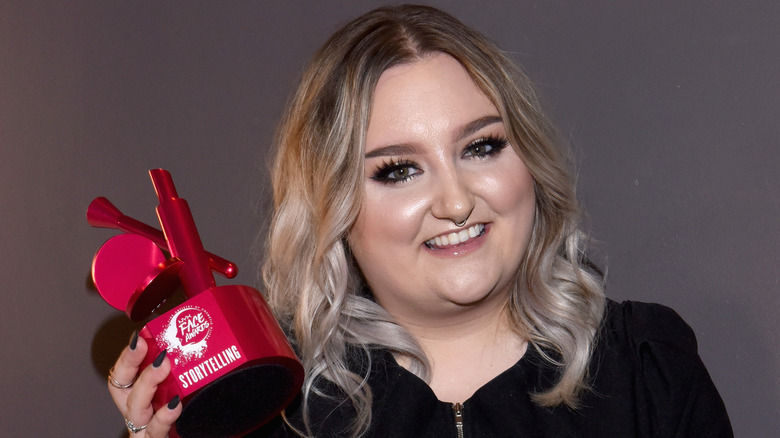 Vivien Killilea/Getty Images
YouTube beauty guru RawBeautyKristi has reviewed everything, including Jaclyn Hill's products and even Hill's issues with her cosmetics company. Now, Kristi is embarking on her own makeup journey, but this time off the screen. That's right: RawBeautyKristi has her own makeup line with ColourPop.
According to the Shorty Awards' webpage, RawBeautyKristi lives by the motto, "A few simple tips, good products and a patient but fun teacher can make all the difference." She's the teacher in question, and school is definitely in session. Kristi began her YouTube channel in 2013 and relates to her viewers because she, too, is self-taught, having never taken up professional makeup training (via Famous Birthdays). This doesn't mean she isn't one of the best makeup artists on YouTube, though. The mother of one has over 1.2 million subscribers on her YouTube channel, and she's steadily growing her platforms to reach the likes of the beauty elites.
RawBeautyKristi followed the golden rule for her collection
RawBeautyKristi's ColourPop collaboration consists of three eyeshadows and two lip glosses, and all five pieces are shimmery and make you, well, pop! All five product shades fall into the neutral category of makeup products, ranging from light peaches to warmer, golden hues. They're perfect for a simple, but effervescent summer look. We can imagine ourselves wearing these to the beach, with the sun catching them just right so that we look like effortless mermaids.
Kristi's glosses come in the shades Glacier and Wildflower. Glacier is a very pale orange-pink shade, while Wildflower is a deeper, unabashed pink. If Glacier is the wee hours of the morning, Wildflower is golden hour at sunset. They're both stunning.
On the other hand, her eyeshadows span the spectrum of gold. These shades are named Olympic, Like a Moss, and Campfire, and each looks super pigmented. Olympic is a robust rose gold, while Like a Moss is a more natural gold, and Campfire is the sun in powder form. Campfire is a statement piece and would be perfect for any occasion.
All five of these products are seriously stunning, and we can't wait to give them a try!