The Truth About Emily Blunt And Meryl Streep's Relationship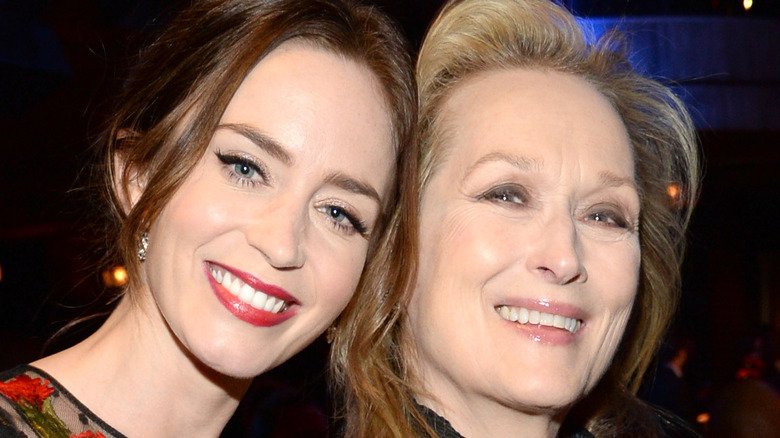 Kevin Mazur/Getty Images
Described as stealing "nearly every scene she's in" (via MTV News), Emily Blunt made a huge impression on Hollywood with her breakthrough role in "The Devil Wears Prada." The actress played the senior assistant to Meryl Streep's Miranda Priestly, and while their characters would say otherwise, the actresses were forming a close bond.
As Blunt explained in an interview with Entertainment Weekly, Streep has been a constant inspiration for the actress as well as a friend. "She's really been there with me from the beginning," Blunt said. "That's quite moving to me in some ways, that I've grown up with Meryl being there."
Streep even rushed out of her trailer at the end of filming to tell Blunt how great she was in the movie, resulting in Blunt bursting into tears on the way home. "I didn't realize how much her sort of stamp of approval would mean," the star told Today.
Since their time together on "The Devil Wears Prada," Blunt and Streep have starred opposite each other in "Mary Poppins Returns" as well as "Into The Woods." While each film is markedly different from one another, Blunt and Streep's characters have a strange commonality — they're always at odds with each other.
Streep has fond memories of her time with Blunt in The Devil Wears Prada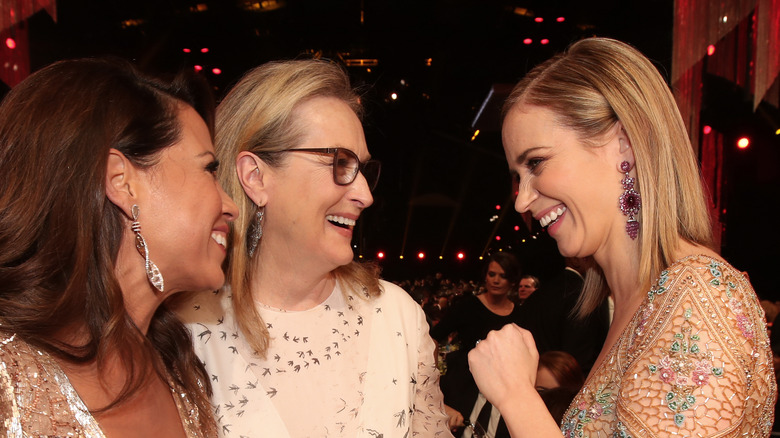 Christopher Polk/Getty Images
Blunt finds it "a bit hilarious" that she and Streep always find themselves playing people "who are contentious with one another" (via Entertainment Weekly). The actress eventually asked her frequent co-star when were they "gonna play lovers or something" instead, to which Streep replied, "Dream on."
Obviously the actresses are quite talented at hating each other when they're otherwise the closest of friends, and Streep attributes that to Blunt's intelligence. "Because she's so smart, her wit informs everything she does," the actress explained. "Even her tenderness is inflected with her smarts and her sense of humor .... She's just crackerjack smart and beautiful and she has the thing that you can't teach in the drama school, and that's charm. ... She's just charm" (via Entertainment Weekly).
Streep also has fond memories of her time with Blunt on "Prada," recalling that her co-star is "completely the same person" as she was when they first met. "She's divine. ... She was already a pretty full-fledged grown up, or did a good impersonation of one."