Wendi McLendon-Covey: Here's How Much The Actress Is Really Worth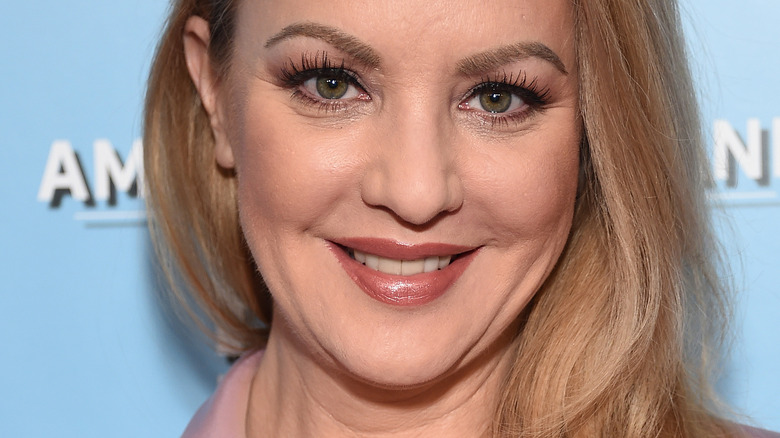 Shutterstock
Wendi McLendon-Covey has been making audiences laugh for decades. Born and raised in Long Beach, California, McLendon-Covey graduated from CSU Long Beach with a dual major in liberal arts and creative writing (via Celebrity Net Worth). She then made what, in retrospect, was a career-defining decision and joined the comedy improv group for non-professionals The Groundlings in 2002. Ironically, the Groundlings troupe has an impressive record for turning out professionals into the comedy world. According to their homepage, the Los Angeles-based group boasts McLendon-Covey, Kristen Wiig, Will Ferrell, Lisa Kudrow, Kathy Griffin, and Melissa McCarthy among their alumni, so their school of theater is clearly doing something right.
After the Groundlings, McLendon-Covey took a character she had developed through her improv work to television and created the iconic role of "Clemmie," Deputy Clementine Johnson on "Reno 911!" (via The A.V. Club). The parody cop show that launched the character actor's film and television career ran from 2003 to 2009 and McLendon-Covey's busty, lusty, Clemmie was a fan favorite (via EW). Per Variety, McLendon-Covey was even on board for a full original cast revival of the show before the pandemic hit, so who knows, we may see Clemmie back some day.
This said, fans may be wondering what Wendi McLendon-Covey's net worth is after her various successes. Read on to learn what the actor is worth today.
McLendon-Covey makes laughter her living
Shutterstock
But aside from her role in "Reno 911!," Wendi McLendon-Covey is also well known for her part in "Bridesmaids," where she got to play a (surprise) sex-starved housewife looking to let loose on a weekend away. Though she reportedly had fun playing the role, when Us Weekly asked where her character Rita might be in a sequel (that's definitely not happening), she replied, "I think she's divorced and seeing that, you know, 'Oh, I had it so much better when I was married' ... I kind of patterned her off of any of the 'Real Housewives' of wherever, where there is always something wrong but there's really nothing wrong. It's just that she's bored and needs to get a job."
Unlike Rita, however, McLendon-Covey has been getting plenty of work, including the crazy cat lady Liz in "Rules of Engagement," Beverly Goldberg in "The Goldbergs," and even the voice of Monica Rappaccini in Marvel's "M.O.D.A.K." (via IMDb). So what has all this garnered her in terms of financial success? According to Celebrity Net Worth, Wendi McLendon-Covey is worth a cool $5 million. One can only imagine she's laughing — on her way to the bank.