The Truth About Joe Biden And Boris Johnson's Gift Exchange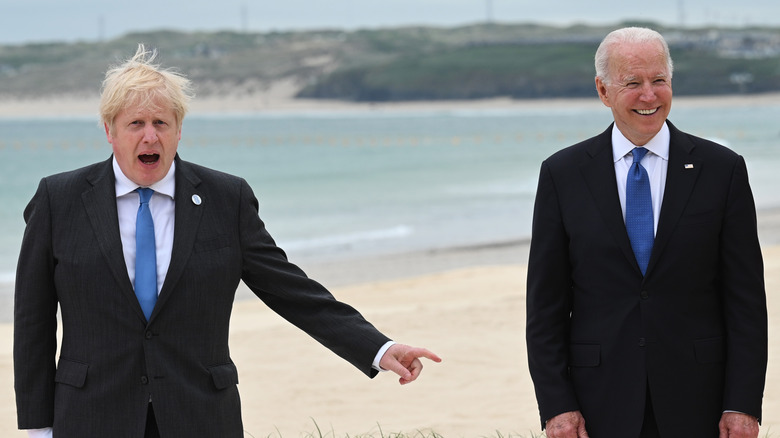 Leon Neal/Getty Images
According to ABC News, President Joe Biden took his first trip out of the country as commander in chief this week, visiting England, and with plans to hit Geneva as well to sit down with Russian President Vladimir Putin. The itinerary included a meeting with Boris Johnson, the British Prime Minister (via The Washington Post). In addition to discussing no doubt very important international diplomacy issues, it is customary during a meeting like this for heads of state to exchange gifts.
With that in mind, as reported by The Washington Post, Biden's team customized a bike for Johnson, complete with a helmet featuring custom graphics, such as symbolic British and American flags crossing. At first, it was reported that the gift cost up to $6,000, but in fact, the bike, helmet, and fee for rush delivery would have cost $10,000 — for anyone else. In this case, given the high-profile nature of the present, the total tab was $1,800.
At this discounted price, the cost of Biden's gift for Johnson still created a problem for the Prime Minister. First, it's worth noting that according to The Week, Johnson loves to cycle, so it's not as if he wouldn't love the gesture. But he may not be able to accept the bike, which hailed from a small shop in Philadelphia, given that as The Washington Post reports, Johnson is only permitted to accept gifts from foreign dignitaries valued at $200. So, he will either have to pay for the difference, or return the bike.
This is not the only issue with the gift exchange meanwhile.
Boris Johnson gave Joe Biden a decidedly less expensive gift
While Biden's gift to Johnson is clearly very extravagant, reports are widely circulating online that the British PM may have returned the gesture with something he could have gotten for free. So what is it? As reported by the Daily Beast, Biden received a printout of a picture of a mural in Scotland of abolitionist Frederick Douglass, which is available without a fee on Wikipedia.
To be fair, the BBC notes the photograph of the painting was taken by Melissa Highton, who gave permission for the use of her work. "To think it could potentially be hanging on a wall in the White House is fantastic and very exciting. It is a great accolade and acknowledgement," she said.
The street artist also told The Washington Post more about being contacted about this piece, noting, "I agreed and I gave them a higher resolution version of the image so that it would be a better quality print. I don't know how they printed it, but, yes, I assume they got a high quality print on quality paper and a nice frame. I haven't seen the finished item."
The outlet notes the framing could have cost hundreds of dollars.