Jessa Duggar Seewald Shares Why Her Fourth Child's Birth Will Be Different From The Rest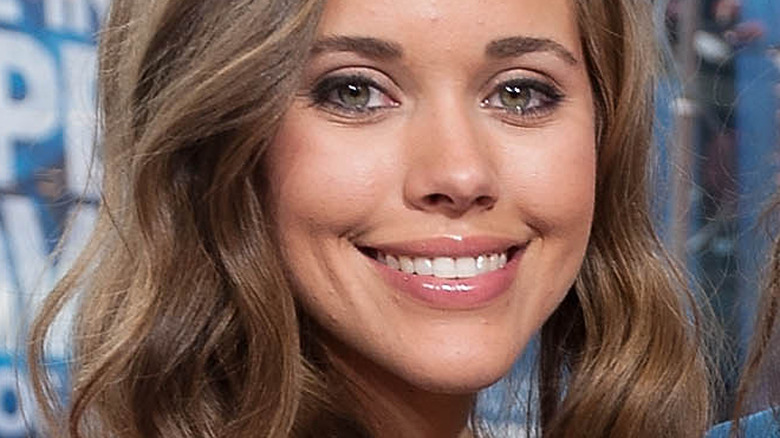 D Dipasupil/Getty Images
One of the stars of "Counting On" is doing some counting of her own. Jessa Duggar Seewald, one of the daughters of the famous 19-child Duggar family, will soon be a mom of four. In February, she and her husband, Ben Seewald, announced the news to "Entertainment Tonight": "We are so grateful to God for the precious gift of a new life! The kids are delighted, and we can hardly wait to welcome this little one into our arms this summer."
The news was happy, but hardly surprising: The Duggars are fundamentalist Christians who believe that only God should control a family's size. Like many of her siblings, Jessa married young and began her family soon afterward. The Seewalds now have two sons, Spurgeon and Henry, and daughter Ivy just turned 2. Jessa also suffered a miscarriage in 2020, so this new arrival will be what's known as a "rainbow baby." 
Jessa, who's the fifth of her 18 siblings, shared an update on her pregnancy on her YouTube channel over the weekend. She answered some of her fans' most burning questions — and revealed one significant way in which this birth experience will be different from her others.
Jessa changed her birth plan because of health concerns
In the video, Jessa Duggar Seewald revealed that she's in her third trimester, "in nesting mode" and "feeling large." The kids are excited and enjoy feeling the baby kick; Spurgeon has even been offering name suggestions such as "Speedy DeLightning." 
Unlike her previous three home births, Jessa will be delivering this baby in a hospital because of her past medical history. After Spurgeon and Ivy were born, she developed postpartum hemorrhage which sent her to the ER. The potentially life-threatening condition occurs in nearly one-fifth of all births, according to American Family Physician. Hemorrhages are controllable with a drug called Pitocin, but midwives in the Seewalds' home state of Arkansas aren't permitted to carry or administer the drug in home deliveries.
Jessa has mixed emotions about giving birth away from home. On the one hand, she fears she may not have the freedom to move around and relax during labor. On the other hand, she said with a grin, "hospitals have epidurals!" 
Don't expect to see a gender-reveal party at the Seewalds' house anytime soon; the couple won't be sharing the news till after the baby comes. In fact, they're even keeping it secret from their older children for fear the boys will blab to their relatives. "When the baby's born, we're going to tell [the kids] first," Jessa explained. "So they'll get to know gender and name and all of that. And then Spurgeon and Henry will be the ones who get to announce it to grandparents, aunts, uncles and cousins."