The Truth About The Feud Between Tyra Banks And Winnie Harlow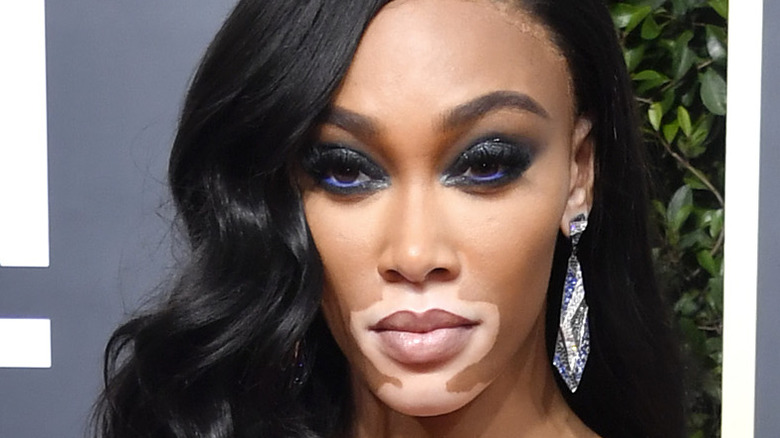 Frazer Harrison/Getty Images
Canadian model Winnie Harlow, AKA Chantelle Brown-Young, competed on the bumper 21st cycle of "America's Next Top Model." As Forbes notes, after being catapulted to worldwide fame in 2014, Harlow has busied herself making fashion history as the first model with vitiligo to walk for some of the biggest designers in the world and feature on the most high-profile magazine covers too. Harlow has always been outspoken, following years of rampant bullying. 
As she explained of her approach, "If someone tells me I can't do something, I want to do it even more. I want to prove them wrong and I want to show them that if I put my mind to it, I definitely can. No doesn't mean no to me. It means not right now." Understandably proud of how far she's come, Harlow is reticent to let anybody take credit for her astronomical rise, including "ANTM" judge Tyra Banks. As far as the former reality star is concerned, she doesn't owe her success to anyone.
Was ANTM a launching pad for Winnie Harlow or not?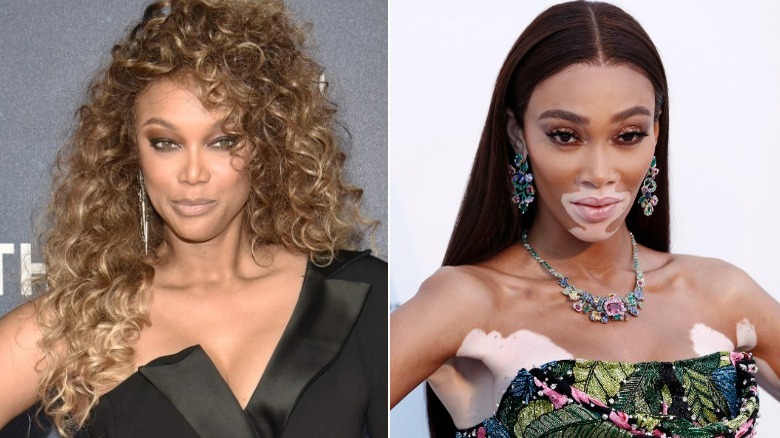 Tim Mosenfelder/Getty Images, Shutterstock
During an appearance on "Watch What Happens Live" (via YouTube), host Andy Cohen asked Winnie Harlow whether being on "ANTM" actually turned her into a top model. Although the Canadian native was eliminated in the second week, Harlow returned to the competition after receiving massive public support in a side contest and ultimately placed 6th overall (via E! News). However, Harlow was adamant "ANTM" didn't make her, noting, "[My success] started after the show, 'cause that really didn't do anything for my career." In fact, Harlow opined, "it doesn't do anything for any model's career, realistically." Actually, a London-based photographer perused her portfolio online and reached out, and Harlow has been in high demand ever since.
The stunning star is appreciative but doesn't credit "America's Next Top Model" with getting her to where she is today. Tyra Banks herself responded (to the presumed shade) during a follow-up appearance with Cohen, arguing she discovered Harlow on Instagram and put her on the show (via YouTube). The legendary supermodel said, "I have nothing but love for my girls," suggesting there might be something else going on to make Harlow speak up. Banks added, "They're all my babies. Even the ones that act out." As People noted, just a couple weeks later, Harlow doubled down on her comments in an Instagram response to a fan, clarifying she had no issue with Banks or the show and simply wanted to make it clear she'd made it on her own merits.