Here's What You Should Know Before Buying A Mattress Online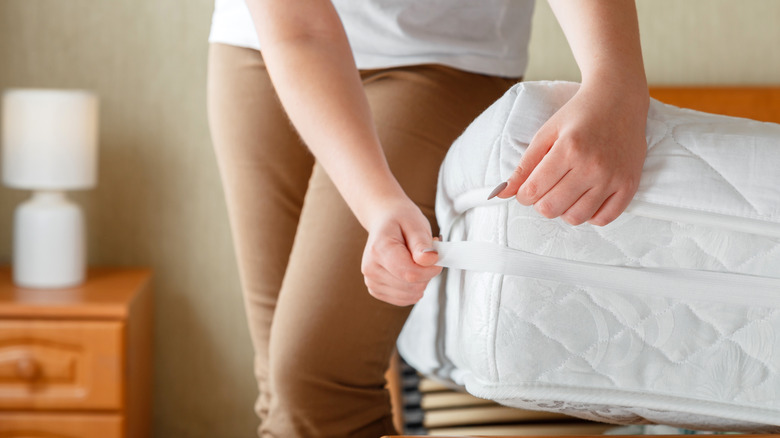 Shutterstock
Buying a mattress online is tempting. Many companies now offer free shipping, vacuum-sealed mattresses that are easy to set up, long-term warranties, 100-night trials, and free returns on their products to entice new customers to take the plunge and buy online instead of in-store. Online shoppers like to avoid the hassle of shopping in person and the sales pressure that comes from store employees. Plus, shoppers can generally avoid the brick-and-mortar markups tacked onto in-store purchases, as noted by Best Mattress Brand.
As with any big purchase, however, it's important to do your research. Without being able to test out a mattress in person, you can't simply rely on a brand's list of top features to ensure a comfortable night's sleep. Plush Beds notes that you will first need to know the must-haves you want out of any mattress. For instance, do you prefer hypoallergenic materials, latex foam layers, memory foam, hybrid materials, or inner springs? What firmness level is best for your sleeping position, whether you're a side, back, or stomach sleeper? Knowing the answers to these details will simplify your research process.
Before buying a mattress online, know your budget and the brand's policies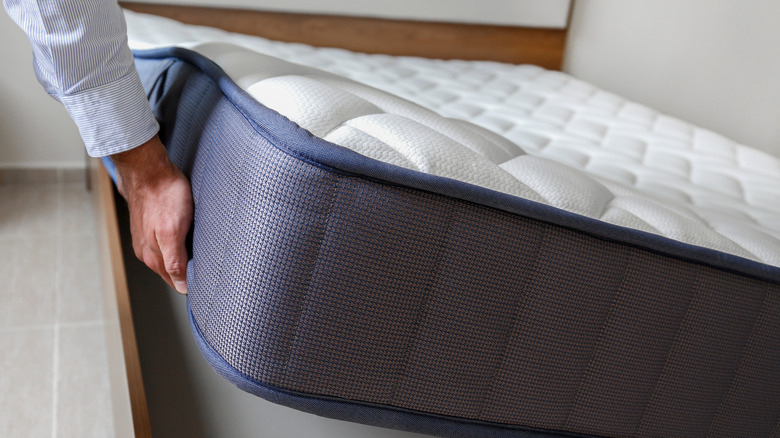 Shutterstock
One of the most important factors to remember while searching for a mattress online is your budget. Fortunately, many review websites such as Consumer Reports will do a great deal of the work for you in vetting different companies, testing out various mattresses, and comparing prices. Just be sure to check out websites that give unbiased opinions. If you suspect that a website is giving a paid opinion, check out customer reviews and testimonies from other sites to balance things out.
In addition, Plush Beds points out that it is crucial to know a company's policies before purchasing a mattress. Make sure you understand how the mattress will be delivered, whether you have to pay for shipping and returns, and whether you will need help setting up your bed. Be sure to double check the trial period, return policy, and warranty as well. Most online sellers offer long trial periods to balance out the fact that you can't test the mattress in a store. Warranties will vary significantly, with some sellers offering only a two-year plan and others offering a 25-year warranty. The details of a warranty are important as well, as some types of damage will not be covered. While online shopping requires a lot of research, you can save yourself a great deal of stress and dissatisfaction by putting in the time before you put in the money.