The Truth About Tyler Perry And Tyra Banks' Relationship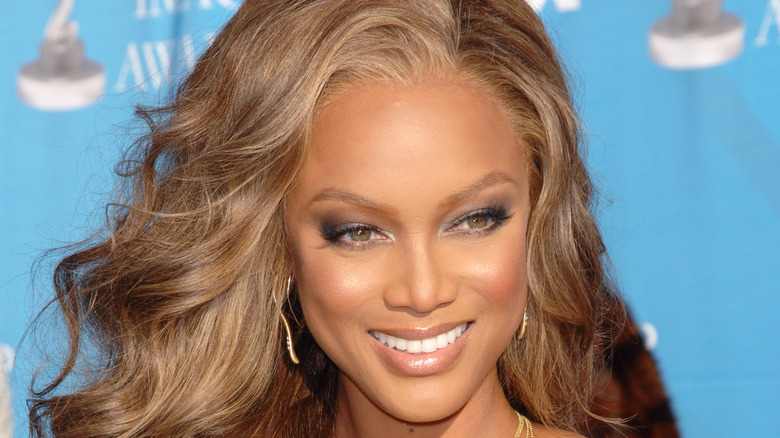 Shutterstock
Tyra Banks and Tyler Perry are moguls for a reason. Each of their resumes are thoughtfully crammed full of projects, awards, and ground-breaking achievements. But while both of these multi-talented overachievers have created a space in media for Black communities, they haven't done so without criticism. 
Banks was called out in 2020 for the racist politics at play on her hit reality television show "America's Next Top Model." She was accused of mistreating and exploiting a number of Black contestants as well as using blackface in photoshoots (via Insider). Despite all of Banks' irredeemable actions, "ANTM" was one of the first reality shows to air conversations about identity and cast a majority of contestants from different backgrounds (via Buzzfeed).
While Perry's attempts to raise Black voices have been successful, using his platform to give back, he's also been accused of reinforcing stereotypes (via Entertainment Weekly). His "Madea" film franchise has grossed millions of dollars, but even actress Viola Davis is torn about the messages behind his storytelling. "People feel the images [in his movies] are very stereotypical, and Black people are frustrated because they feel we should be more evolved," the star explained. "But there are very few Black images in Hollywood, so Black people are going to his movies." 
The controversial figureheads of Black media have crossed paths a number of times, but their relationship hasn't always been strictly platonic.
Tyler and Tyra may have a romantic history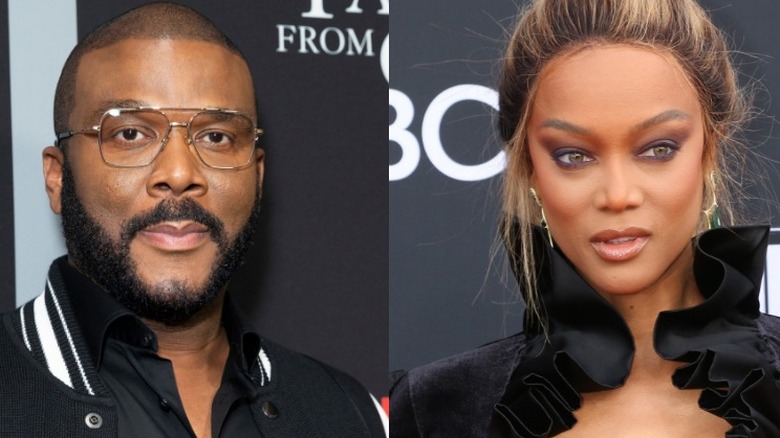 Shutterstock
According to Zimbio, Perry and Banks were rumored to have dated in 2006. The rumors began after the couple was spotted dining out together, but both celebs' teams denied any romantic involvement between the two. It seems we'll never get a definitive answer about their tryst, but as for the relationship today, they appear to be close. 
In a 2012 Entertainment Tonight interview, Banks stated, "Tyler Perry is a really good friend of mine." So much so that Perry jumped at the opportunity to cameo on Cycle 19 of "America's Next Top Model," (via Entertainment Weekly). "If I get to hang out with Tyra all day ... that's always fun," Perry explained (per Entertainment Tonight).
Both Banks and Perry have had a number of famous suitors since their alleged affair including Chris Webber, Seal, John Singleton, Gelila Bekele and Tasha Smith (via Whos Dated Who). After a 10-year relationship, Perry and Bekele called it quits in 2020 (via Vulture). Perry confirmed the split on Instagram stating, "This is what a midlife crisis looks like. I'm 51, single and wondering what the next chapter in my life will look like." Meanwhile, Banks is spending her little free time with boyfriend Louis Bélanger-Martin, her first public relationship since she split from the father of her son, Erik Asla (via Oprah Daily).