The Truth About Bob Saget And John Stamos's Relationship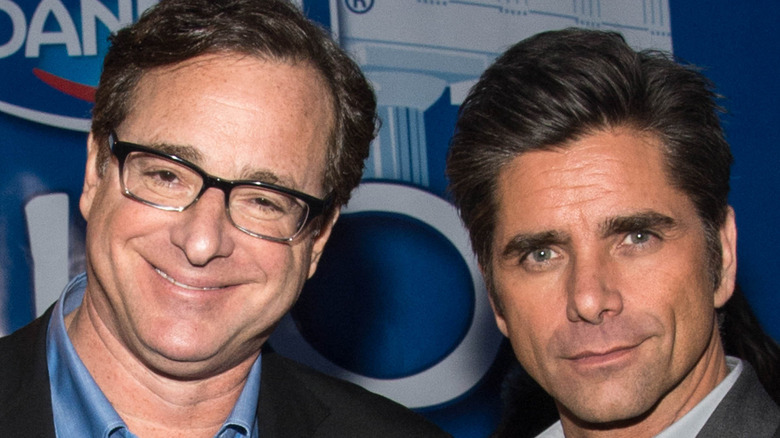 Shutterstock
In the 1980s and 1990s, Bob Saget and John Stamos played brothers-in-law and best friends on TV which translated to a real-life one that's still alive and well today. While the original version of "Full House" left the airwaves way back in 1995, a reboot came alive in 2016, with Saget and Stamos reuniting for a handful of episodes (via IMDb). This was something that also gave their friendship a boost.
From 1987 to 1995, Saget played Danny Tanner, the widowed father of three young girls who asks his two best friends to live with him and help out. Joey, Danny's childhood BFF was played by Dave Coulier, and Uncle Jesse, Danny's late wife's brother, was played by Stamos (via Full House).
The three on-screen besties developed a bond that could not be broken since when "Full House" ended, Saget and Stamos were still pretty close. In fact, Coulier and Saget were friends before they ever landed their "Full House" roles, according to Courageous Nerd, so Stamos just fit right in.
Bob and John form a tighter bond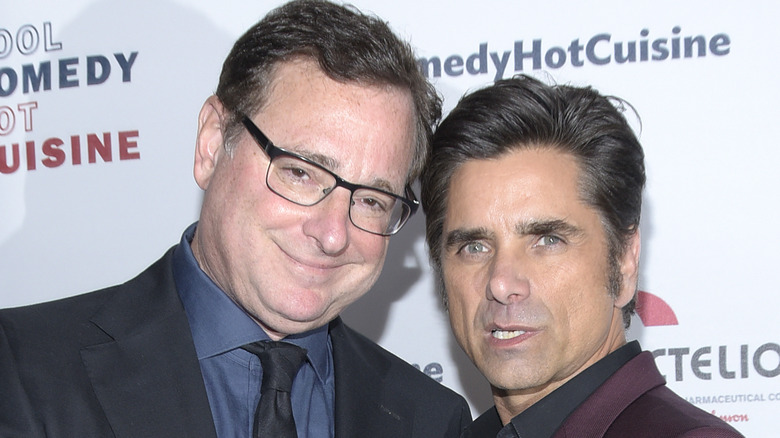 Michael Tullberg/Getty Images
In recent years, Bob Saget and John Stamos have let their friendship play out online via social media. From their Instagram posts, it's clear their friendship remains as solid as ever.
In 2018, Saget married his second wife, Kelly Rizzo, and the "Full House" cast attended as guests. Stamos got especially sentimental when he posted wedding photos and an absolutely heartwarming message (with some humor) that read, "Sometimes in life, the least likely person that you'd think would turn out to be your lifelong friend, someone who is there for you through the ups and downs and sideways – a brother and a confidant."
The post continued, "Someone to laugh with and cry with, but mostly laugh with, – well Bob turned out to be all that and more. A week ago I went to one of the most authentically perfect weddings I've ever been to, and not just because @johnmayer played an acoustic version of Free Falling (my fav) but because my brother Bob found the love of his life, the lovely Kelly – someone who makes him so happy which makes me so happy. Congratulations to you both and Bob, I miss our cuddling time already."
Bob and John are still super close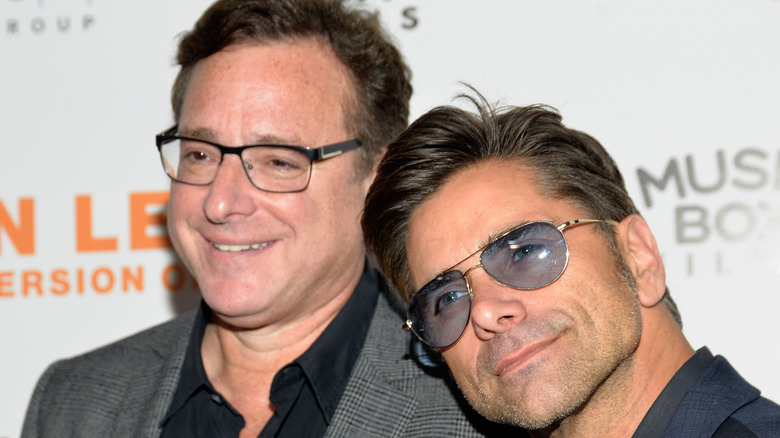 Michael Tullberg/Getty Images
After John Stamos wrote his touching message to Bob Saget following his 2018 wedding, Saget responded back in a cute private message – meant for public consumption. "John, I don't care who knows it – I love you so much my brother. You have been there for me so many times and I will always be there for you. And I look forward so much for so many good times with both of our amazing wives and my nephew Billy. Glad we could keep this personal just between the two of us. Your brother, Bob," (via The Things).
In 2019, Saget and his wife, as well as Stamos and his wife, Caitlin McHugh, all went out on a double date together. Of course, they had to document the event on social media. Saget posted a photo of the two of them to Instagram, with the caption, "What can you say about someone you've loved for so long and want to spend the rest of your life with? But enough about @JohnStamos – We are both so lucky to have married these wonderful beautiful women- @eattravelrock and @caitlinskybound – And we know which one we are each married to....whew."