Here's How Much Michael Bolton Is Really Worth
Shutterstock
Singer-songwriter Michael Bolton has been around the block when it comes to the music industry. He's had his fair share of hits, but only after switching genres. His loyal fans include the likes of Lisa Rinna, who will no doubt be thrilled to see Bolton as the co-host of ABC's new revival series, "The Celebrity Dating Game." The series premiered on June 14, 2021, and airs on Mondays on ABC (via Rotten Tomatoes). Bolton is joined by fellow co-host Zooey Deschanel in this series originally from the 1960s, and it's just another feather in Bolton's large cap of experiences. 
In addition to his solo music career, Bolton is most known for working on soundtracks for such films as "MacGruber," "Alien Nation," and "Man of the Year" (via IMDb). He even sang the end credits in Disney's "Hercules." According to his website, Bolton has written music for and with some of the biggest names in the music industry. This includes Kanye West, KISS, Lady Gaga, Bob Dylan, and Cher. He stays busy, and this directly reflects his bank account. Bolton is worth more than you may think.
This is how much Michael Bolton's decades-long career has earned him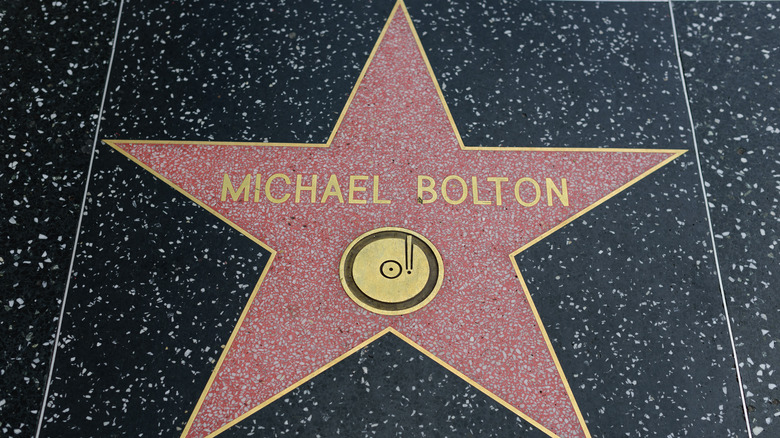 Shutterstock
According to Celebrity Net Worth, singer-songwriter Michael Bolton is worth an estimated $80 million. The New Haven, Connecticut born artist dove into his music career in 1975. In the beginning, he used his family name, Bolotin, for his stage name, but changed it to Bolton later on. While we now know Michael Bolton for his smooth voice, he originally performed in a hair metal band called Blackjack. This would be rather short lived in comparison to the rest of his career. His transition into what we know him for now is what allowed his star to rise so high and what allowed his bank account to do the same.
Bolton has performed his sultry voice for audiences across the world with numerous tours. He's also celebrated other artists, such as on his 2013 album "Ain't No Mountain High Enough: A Tribute to Hitsville USA" (via Celebrity Net Worth). This album saw Bolton recording classic Motown songs, and it featured artists such as Melanie Fiona. He also worked with Kelly Rowland and Orianthi for this project.
Michael Bolton's career has continuously evolved over time, so we're not surprised his net worth sits pretty at around $80 million. If you want to keep up with Bolton now, you can catch him on the revival series, "The Celebrity Dating Game," every Monday evening on ABC.