Summer Makeup Trends You Should Totally Skip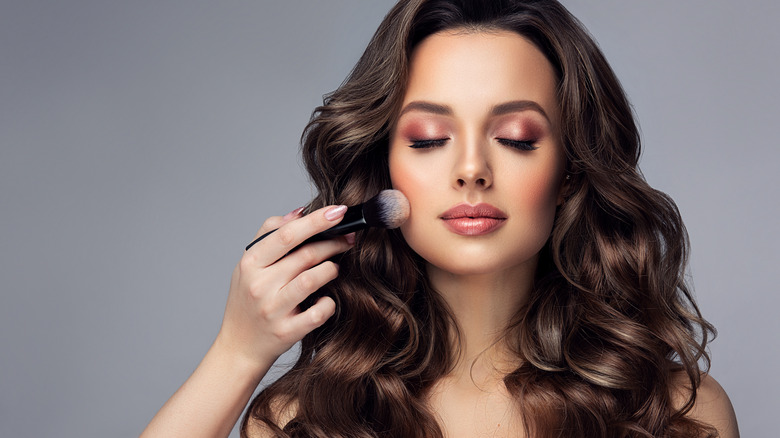 Shutterstock
Much like the ever-changing seasons, makeup trends come and go. The 80s saw a rise in bright neon eyeshadow that quickly faded into obscurity, much like the giant teased hair of the time. Then there was glitter everything in the 90s, which wasn't so terrible if you wanted to add a little sparkle to your cheeks. But if you ever put it on your eyelids, you know the struggle was very real. Then there was the interesting trend of penciling in very small eyebrows — so tiny at times they were hard to see. So, with so many makeup trends to choose from, which ones should we try and which ones should we skip this summer?
Luckily, there are some new fads out there that look absolutely stunning on everyone, like having a sun-kissed glow, according to InStyle. This trend gives your skin a radiance that is perfect for the summer months. Another option that never goes out of style is a bold lip moment. "With so many people taking a break from lipstick in 2020, we are bound to see bold, bright lips make a triumphant return," David Razzano, Sephora's beauty director, told Nylon. "It is an easy trend that polishes up any look and brightens your complexion as well as your mood." With that said, there are some new makeup styles that you might want to pass on.
Makeup fads that you may regret
Celebrities like actress, Yara Shahidi, have been seen sporting the graphic eyeliner trend, per InStyle. While she looks gorgeous, the trend is a little more difficult to attempt if you don't have a celebrity makeup artist at your beck and call. This look could easily go from cat eye to catastrophe very quickly. Another trend we're not so sure about is the bright matte eyeshadow look, which is really giving us 80s vibes, but not in the best way. Stars have been recently donning the look in bright shades of magenta and orange, which are not colors for the faint of heart. 
Similarly, we're not huge fans of the bold eyeliner moments that are happening right now. While a bright blue or purple eyeliner can look incredible on some, the look can also border on cartoonish if not done with caution. However, if you're feeling brave and want to attempt the trend Savannah St. Jean, owner of Savannah Rae Beauty, told Nylon there's some techniques she suggests. "Consider swiping either a liquid or pencil liner in any color your heart desires," she said. "If you really want it to be on point for 2021, consider an earthy tone, such as burnt orange or forest green." Ultimately, whether you decide to tackle one of these trends is really your choice. Afterall, makeup is meant to be fun, so if it makes you feel happy or beautiful then go for it!