Kate Middleton Just Made This Huge Announcement
Shutterstock
She was once criticized for her cautious attitude to taking on royal duties — so much so that Kate Middleton, who had undertaken 34 official engagements during her first eight months as Duchess of Cambridge, had been christened "Duchess of Dolittle" (via Daily Mail). 
Now it appears Kate had in fact kept busy from the start, and because of all the work she had undertaken, she is ready to start a new initiative involving her key interest involving early childhood, by launching The Royal Foundation Centre for Early Childhood.
The Centre, which will be based in Kensington Palace, is expected to do three things in the area of the issue of early childhood: carry out research, undertake collaborative work to find answers, and launch awareness campaigns about the importance of the first five years of a child's life. "The Duchess has made the observation that the more you learn about the science of early childhood, whether it's brain development, social science, what it means for our adult mental health, the more you realize that this is the social equivalent to climate change, but it is not discussed with the same seriousness or strategic intent that that issue is," an unnamed Kensington Palace aid tells Town and Country.
Royal watchers are applauding the initiative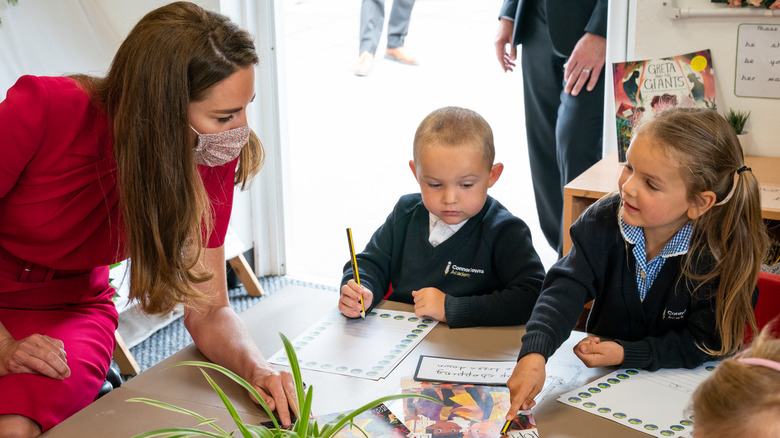 Wpa Pool/Getty Images
In a timeline released through the Duke and Duchess of Cambridge's social media pages, Kate indicates that her interest began in 2011, or the year she and Prince William got married (via The Scotsman). "My early years journey began by meeting people rebuilding their lives from addiction, homelessness, and family breakdown," the video says (via Instagram). By 2016, the year the Cambridges launched the Heads Together initiative with Prince Harry, Kate said she "wanted to do more to help prevent those social challenges by improving mental health." It took another five years from that time, before she was ready to launch the Centre.
Royal watchers are applauding Kate for taking full ownership of her early years initiative. "When she first came on the scene, she started out as 'Royal plus one' and as she's sunk her teeth into this issue and realised this was something she was really engaged in and passionate about, she's grown in confidence," The Telegraph's Camilla Tominey says. Tominey also pointed out that Kate was aware that "this was a marathon and not a sprint", and that there was a deep desire on Kate's part to make this a legacy project.