Where To Buy The Exact Clothes Rue Wears On Euphoria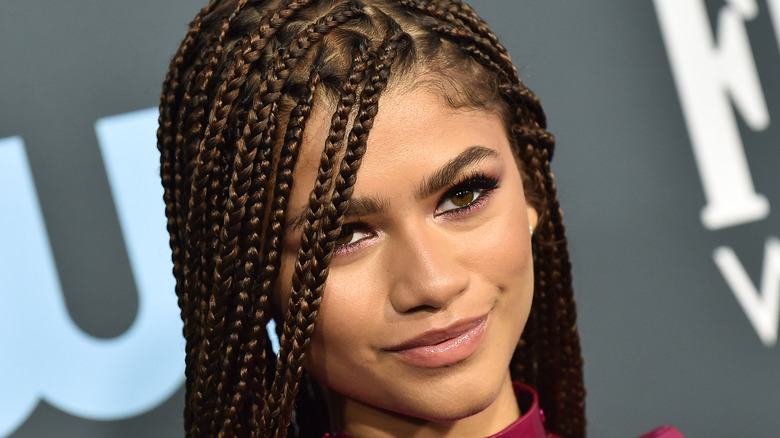 Shutterstock
HBO Max's "Euphoria" takes viewers along a labyrinth of the teenage mind including sex, identity and trauma. At the center of the swirl of glittery eye shadow and mind-numbing substances is lead character Rue Bennett (via Marie Claire). Audiences can't help but root for the teenaged recovering addict as she attempts to take control of her mental illnesses, finds love and tried to find an end to her self-destructive tendencies.
Bringing Rue to life in the drama series is actress Zendaya, who won an Emmy for her portrayal of the troubled youth (via BBC). Journalist Caroline Framke wrote of the character, "Though written with vicious precision by Sam Levinson, Rue's only as effective as she is because Zendaya is so incredibly good at portraying her," (via Variety). Thus, Zendaya and Rue have become synonymous thanks to the actress's nuanced and highly balanced performance.
One of the less striking qualities of Rue is her style. The lead's vintage aesthetic gives the show an almost timeless, magical setting until she's forced to interact with more modern characters. Costume designer Heidi Bivens' stated this effect is intentional. "Whatever we did, I wanted it to feel timeless, but at the same time, like a time capsule" (via Teen Vogue). We'd say she succeeded!
And now viewers can dress just like Rue in Season 1 thanks to Worn on TV. 
Rue's wardrobe features psychedelic button downs
Most of Zendaya's wardrobe on "Euphoria" is meant to be androgynous, representing Rue's burgeoning sexual attraction toward woman (via EW). One of her signature pieces is the vintage button down. In Season 1, Episode 3 "Made You Look", Rue wears an Oversized Shirt In Psychedelic Print by Stussy and proclaims that character Jules Vaughn is the "best thing to happen to her in a long time" (via YouTube) before kissing her. The checkerboard print shirt is available at ASOS for just $40 (via Worn on TV). 
Another fashion moment from the same episode featured Jules calling out Rue for "acting weird" every time she brings up her online male love interest, aka Shyguy118 (via YouTube). During the scene, Rue dons a Tribal Flames Shirt by Pineapple Connection (via Worn on TV). Though the button down is currently out of stock, find plenty of colorful substitutes on eBay.
Finally, in Episode 5, "Bonnie and Clyde '03" as Rue revels in the possibility of her romance with Jules becoming a reality, she sports a Geometric Short Sleeve Shirt by Stussy (via Worn on TV). The shirt is currently out of stock on Stussy's website, so keep an eye out for it popping up on any pre-owned clothing sites. 
Rue loves the oversized tee trend
Perhaps Rue's most iconic staple clothing item is the oversized t-shirt. We mostly see this disheveled look when she is at her lowest point. For example, in the series' pilot episode, Rue asks friend Lexi Howard to pee in a cup for her in order to pass a drug test (via YouTube), all while wearing the Oversized Alien T-shirt by Gosha Rubchinskiy (via Worn on TV). The shirt is available at Far Fetch and is currently out of stock. 
Another oversized moment comes in Episode 3's "Made You Look" where Rue's No Problemo T-shirt by Aries (via Worn on TV) is on full display as she watches helplessly while Vaughn texts her male suitor (via YouTube). Get a custom duplicate of the t-shirt on Etsy for just $25. 
Finally, in Episode 7 "The Trials and Tribulations of Trying to Pee While Depressed" we witness Rue transition from a manic high into a depressive low, which she suffers through while wearing a HDNYC Marbled Tee by CNY (via Worn on TV).