Is This The Ultimate Cause Of Harry And William's Fallout?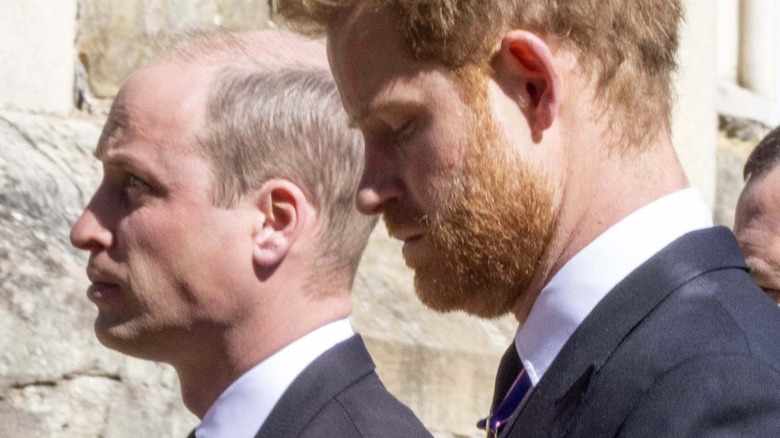 Wpa Pool/Getty Images
Prince Harry's relationship with his older brother, Prince William, has seemingly been strained for years. In recent months, Harry and his wife Meghan Markle have made some bold statements about the royal family (via USA Today). During a tell-all interview with Oprah Winfrey in March, the couple accused members of the royal family of making racially insensitive comments about the skin color of their son, Archie. Meghan also recounted a situation in which William's wife, Kate Middleton, had made her cry while they were hashing out details of her wedding to Harry.
Since the interview, Harry has gone on to reveal that he felt trapped within the confines of the royal family, and even compared his life to the Jim Carrey film "The Truman Show." Harry told Dax Shepard's "Armchair Expert" podcast that his life was "a mix between 'The Truman Show' and living in a zoo," saying, "It's the job right? Grin and bear it. Get on with it," per Fox News.
While William and Harry's rift may have been widened by Harry and Meghan's recent comments, as well as their exit from the royal family in early 2020 (via Insider), reports of tension between the brothers date all the way back to 2018.
Bullying allegations may have started William and Harry's feud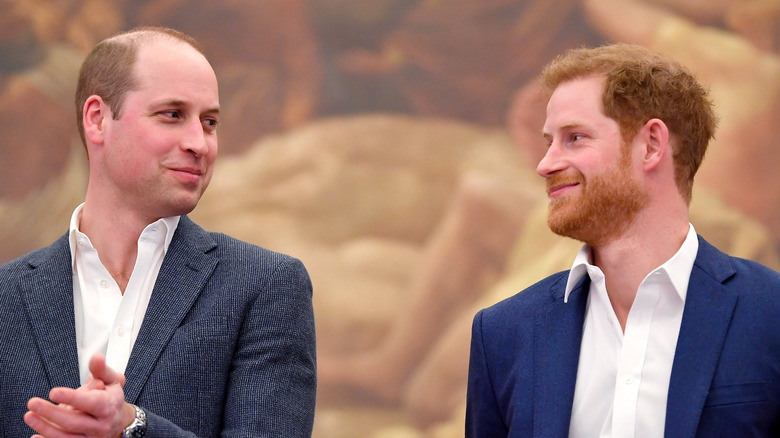 Wpa Pool/Getty Images
According to the Daily Mail, the original cause of Prince William and Prince Harry's falling out may have happened in 2018. According to royal author Robert Lacey, William allegedly became furious with Harry after he received claims that Meghan Markle had bullied a member of the palace staff. The brothers reportedly had a heated phone conversation about the allegations which ended with William throwing Harry out of their shared household at Kensington Palace, and Harry hanging up on his older brother. Lacey's book "Battle of the Brothers" also claims that William suspected Meghan of being "hostile" to the royal lifestyle and believed she always planned to leave the firm to return to America.
Lacey also writes that William's wife, Kate Middleton, had been wary of Meghan from the start of her relationship with Harry. "Meghan portrayed herself as the victim, but she was the bully. People felt run over by her. They thought she was a complete narcissist and sociopath — basically unhinged," a Kensington Palace courtier told the author in the book.
Meghan and Harry stepped away from their roles as senior members of the royal family in early 2020 and are currently living in California. Harry reunited with his family for the first time since his exit back in April for the funeral of his grandfather, Prince Philip (via InStyle). Daily Beast reports that Harry's also expected to return to the U.K. on July 1 for the unveiling of a statue in honor of his late mother, Princess Diana.