What Too Hot To Handle's Rhonda And Sharron's Relationship Is Like Today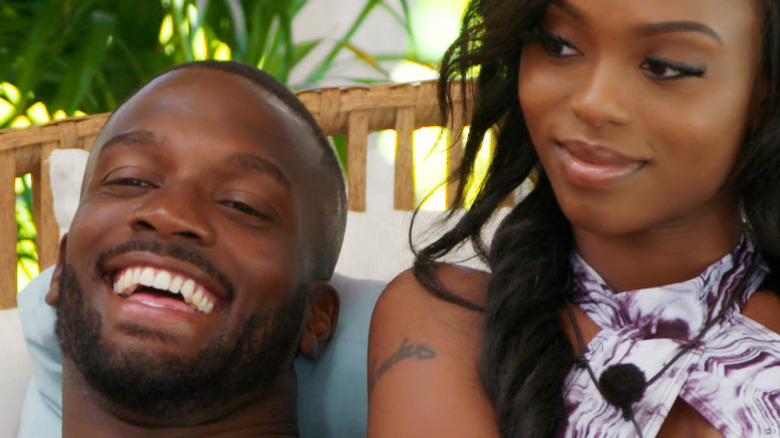 Netflix
2020 brought us a lot of things, and one of the most fun to watch was the binge-worthy Netflix reality show "Too Hot to Handle." The show put a series of young and attractive singles together for a month at a tropical beach paradise to form relationships. You might assume that it was a dating show where anything goes, but the catch to winning their share of the $100K prize money *spoiler alert* was that any sexual contact would lose money for everyone. Chloe, one participant from the 1st season called the show "sexual rehabilitation for everyone" (from the Daily Mirror).
Many of the activities that the scantily clad contestants did were about trying to get them to connect emotionally with someone as compared to just hooking up (via Metro). And it worked for Sharron Townsend and Rhonda Paul, who were the strongest couple at the end of the eight-episode show.
For Sharron, it was their first kiss early in the show that got to him, saying "You know how they say sometimes you just feel a spark? After that kiss, I was blown away" (from Men's Health). And it was Sharron's outgoing, goofy personality that first attracted Rhonda; she told Men's Health, "Right in the beginning, I'd shoot jokes at him, and he was able to give it right back. It was kind of refreshing to know there was somebody similar to my type of vibe and personality."
Rhonda and Sharron are still friends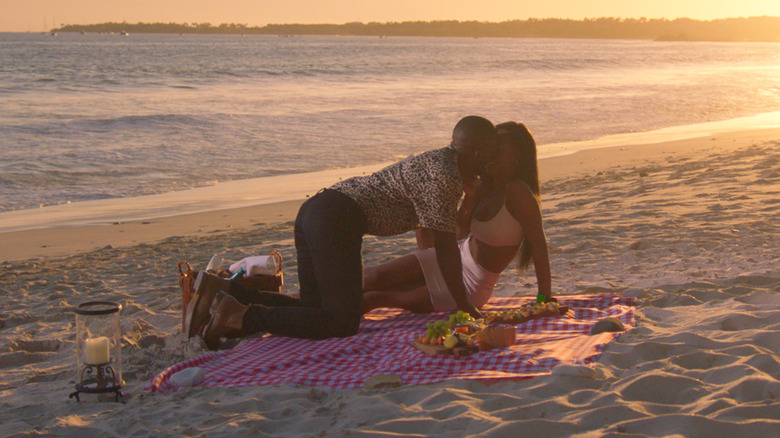 Netflix
Rhonda said about her "Too Hot to Handle" romance with Sharron, "After the show, we were going strong for a few months" (via Oprah Daily). However, a year after the show aired, Rhonda said they're not still together as a couple but still in each other's lives as friends (from Women's Health). And it seems like distance was a factor that made pursuing a romance difficult since Sharron lives in New Jersey and Rhonda lives in Atlanta.
Sharron explained within that first year after the show that "I was having family issues. My mom was sick. I ended up closing off again. Not intentionally, but I found myself distancing from her" (from Oprah Daily). They only actually saw each other via FaceTime after the show wrapped, even before the pandemic (from ET).
Even though the two may not still be going strong, the show's creative director sees what happened between them as a win, saying, "Have you seen a relationship like Sharron and Rhonda's on a reality show before? I have never seen that. The growth that those two go through together, the genuine emotion at the end of it, was heartbreakingly gorgeous" (via Oprah Daily).