The Important Change The Emmys Just Made Towards Inclusivity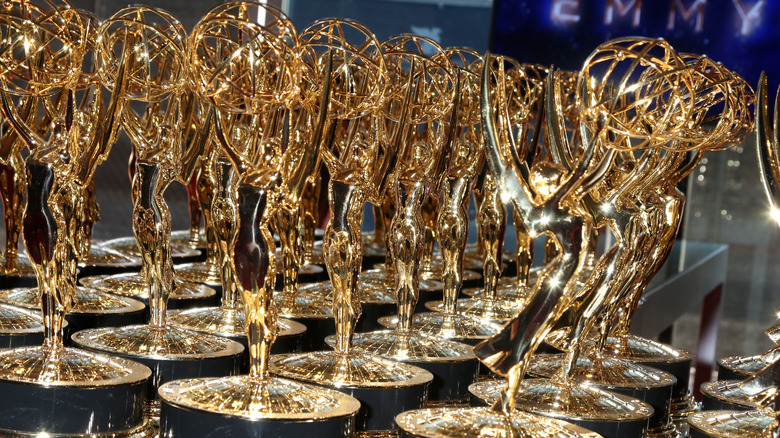 Shutterstock
The Emmy Awards have been around since 1948, recognizing and rewarding television series and stars, per the award's official website. This year, the Primetime Emmys will air on Sunday, September 19, and nominees for the 73rd Emmy Awards will be announced on July 13.
While anxiously awaiting the nominations and the results, some big news was announced on Monday. The Television Academy's Board of Governors approved a rule change, saying that anyone nominated in an actor or actress category can have their nomination certificate and Emmy statuette say "Performer" instead. 
According to Deadline, the Academy said, "No performer category titled 'Actor' or 'Actress' has ever had a gender requirement for submissions. Now, nominees and (or) winners in any performer category titled 'Actor' or 'Actress' may request that their nomination certificate and Emmy statuette carry the term 'Performer' in place of Actor or Actress." The change will take effect starting with the 2021 Emmy Awards season.
More steps towards inclusivity and diversity have been taken by The Television Academy
Last year, The Television Academy also announced rules changes aimed at more diversity and inclusion by expanding the number of nominees per category on a sliding scale. Additionally, at the 2020 Emmy Awards, those nominated included more than 30 people of color and about a dozen openly LGBTQ+ performers. However, there was no representation for the Asian (besides Sandra Oh), Indigenous, Latinx, nor disabled communities (via The Hill).
In March of 2021, The Television Academy took another step towards equity in the entertainment industry by partnering with ReadySet, a consulting firm that works to build more diverse and inclusive workplaces and cultures, as stated on Emmys.com.
Hopefully, the nominees and winners of the 73rd Emmy Awards, which is taking place on September 19, will represent an even bigger assortment of gifted and well-deserving performers and will continue to showcase a wide range of people and talent in the world of TV!