How The Full Moon On June 24 Will Affect You If You're An Aquarius
Shutterstock
The full moon on June 24 is set to be a big one. According to Allure, the celestial event will be one of "the most powerful astrological days of the year." June's full moon has been given the name Strawberry Moon due to the fact that it occurs around the time that strawberries begin to ripen and are gathered in the Northern hemisphere. Since full moons are the perfect time to regroup and think about the goals that we want to achieve, manifestation is key during this time of the month.
The moon will also be the final supermoon of the year, which means that it will appear to look larger than usual in the sky. It may also cast more light. However, despite being named the Strawberry Moon, it won't have a pink tint. The outlet also encourages those willing to meditate, using the energy to draw things such as money and success into your life. For Aquarius, the event may force you to deal with some insecurities and worries, which may be weighing heavily on your mind, per Vogue.
Aquarius should focus on personal growth during the full moon on June 24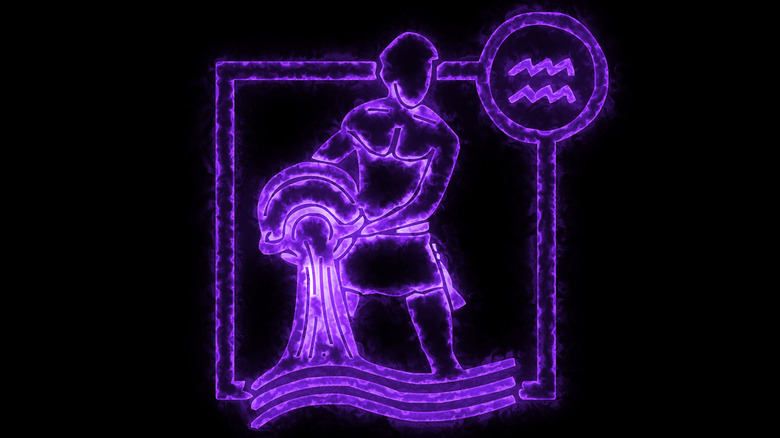 Shutterstock
For those born under the sign of Aquarius (January 21 – February 18), the full moon on June 24 could bring some deeply rooted fears to light. Vogue notes that Aquarius should think about their hopes and dreams while focusing on their intuition and instincts. This time could bring up some feelings of instability or rejection, or even leave you questioning your place in the world. Uncertainty surrounding your career could also come into play. However, a close family member or friend may help calm your fears by giving you some advice that allows you to move on and begin healing.
The outlet adds that if you're an Aquarius, you may want to use this time to clear the clutter from your mind and put the past behind you as you work on getting closure on any issues you've been dealing with. This will allow you a fresh start and put you in a better headspace going forward. For Aquarius, this summer may be about healing and personal growth, and the full moon could be the perfect time to start the process.