The Exact Beauty Products Gina Rodriguez Wore On Jane The Virgin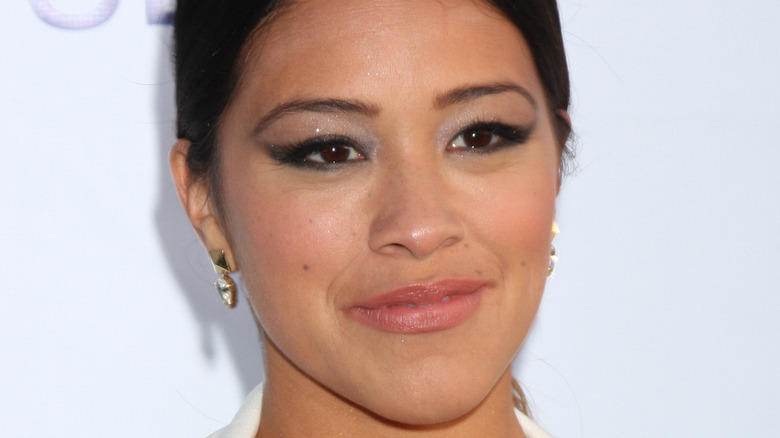 Shutterstock
Sometimes it's easy (a little too easy) to see the makeup on actresses' and actors' faces. Instead of the foundation blending in seamlessly, it looks blotchy and heavy. On the other hand, on certain TV shows and films, the makeup is nearly unnoticeable, which begs the question: how does the makeup artist work such magic?
As we know, Gina Rodriguez always looked fresh-faced while on "Jane the Virgin." But in reality, the actresses wore foundation, concealer — the whole shebang. How did Shauna Giesbrecht, Rodriguez's makeup artist, achieve such looks? According to Stylecaster, the secret is waterproof products. Giesbrecht started with Temptu Cordless AirPod System for foundation. She used Urban Decay's 24/7 Glide-On lip pencil as well as e.l.f.'s Essential Lip Stain, per Refinery29. Both products lasted through countless scenes, even the "kissing ones."
Aside from lip and blush products, another go-to was budge-proof mascara, including L'Oreal Voluminous Mascara and Blinc Mascara. Both products allowed Rodriguez to look flawless, even when she had tears running down her face, per Refinery29.
How Gina Rodriguez's makeup artist perfected her flawless looks
It wasn't only makeup products that Giesbrecht used to perfect Rodriguez's camera face — it was beauty items too. Per Stylecaster, the artist used a facial eye-roller, which was her secret to making Rodriguez look bright-eyed and radiant through the series' run.
"A new tool that got me through all of last season was the facial ice roller," the makeup artist said to Refinery29. "You put them in the freezer and literally just roll it onto the face. If anyone has swollen eyes or puffy cheeks, it takes away all of the inflammation without disturbing any of the makeup. Even Gina [Rodriguez] has said, 'That ice roller is the s***!'"
However, the ice-roller wasn't her only secret. She also used Talika's Eye Therapy Patches to reduce inflammation. Now, she just needs to give all of her secrets to other Hollywood makeup artists!