Meet Sam Asghari, Britney Spears' Boyfriend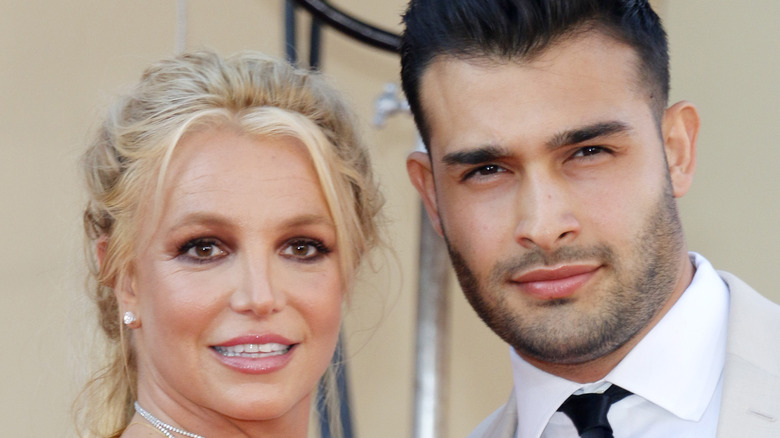 Shutterstock
Britney Spears and her love life has been on public display since the pop star was a teenager.
It was 1999 when the then-18-year-old Spears began dating fellow teen music sensation, Justin Timberlake. The pair graced the covers of magazines throughout their relationship until they parted in 2002. Since then, the pop icon dated a slew of men – and married twice – before meeting and settling down in a long-term relationship with Sam Asghari, whom she met in 2016 (via Hollywood Life).
Spears and Asghari first became close when they worked together on the set of her music video "Slumber Party." Spears found herself out of the spotlight for a while after a turbulent marriage to backup dancer Kevin Federline, with who she shares two sons, plus a brutal and very public custody battle, according to People. While she dated other men after Federline, Spears and Asghari, a fitness influencer, just clicked.
Sam met Britney on the set of this music video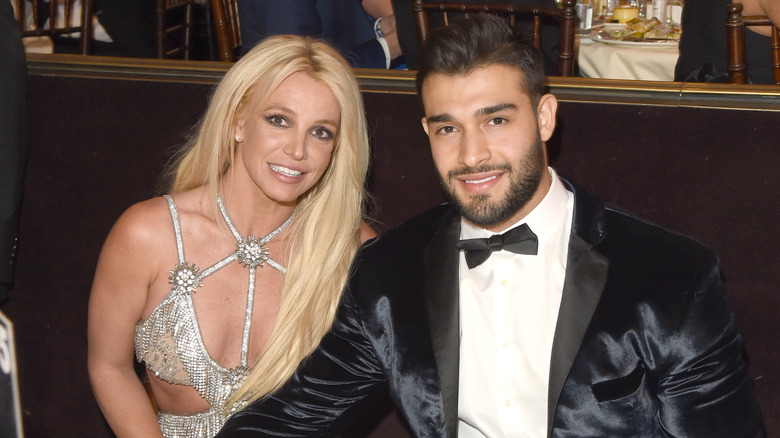 J. Merritt/Getty Images
Sam Asghari is an Iranian-born personal trainer. Asghari, who was 27 years old as of this writing, moved to the United States when he was just 12 years old and quickly became a football star, eventually playing the game for Moorpark College in Los Angeles, reports Harper's Bazaar.
Asghari eventually tried his hand at modeling thanks to his sister, Faye, noticing how fit he had become in his quest for health and becoming a trainer. At the time, Asghari's sister had moved to the United States and convinced him to give it a go, reports Men's Health.
When he was 21, he booked a runway show in Palm Springs, but bigger gigs sprung from there, including a Toyota Super Bowl ad and a big part in a music video for the "Fifth Harmony" tune "Work From Home." From there, he landed a part on Britney Spears' "Slumber Party" video and the two hit it off. Asghari and the pop star are still together five years later, as of this writing.
Sam remains a great support system for Britney
Allen Berezovsky/Getty Images
In 2019, Sam Asghari was right by Britney Spears' side when she sought mental health help. He has also been a great support for her as she fights in court to have the conservatorship lifted that placed her finances and large personal decisions in the hand of a lawyer, and her father, Jamie Spears, in 2008 (via Entertainment Tonight). In fact, Asghari was quite vocal in his dislike for his girlfriend's father and let his thoughts be known in an Instagram Story in 2021.
"Now it's important for people to understand that I have zero respect for someone trying to control our relationship and constantly throwing obstacles our way," he wrote, according to Harper's Bazaar. "In my opinion Jamie is a total d*&k."
As a personal trainer, he loves working out with her and told Men's Health he thinks it's a healthy thing to do as a couple. He also explained to Men's Health how lucky he is to have Spears in his life. "She motivates me more than anyone. It's crazy how I can be humbled by a person like her," he gushed. "If I could be that humble when I'm that high in life, that would be the best thing."
Asghari later added, "I grew up with three sisters, and my personality is just to be a supportive person for my family and she's family. I'm always going to support her. She is another blessing that happened to me."