The Ultimate Guide To Achieving A Trendy Dark Academia Aesthetic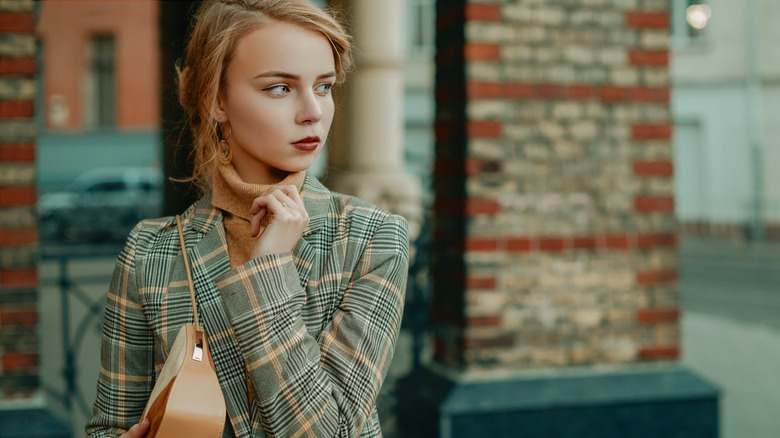 Shutterstock
Even if you weren't the best student in school, you can still get in on the dark academia trend that's taking over TikTok. Mixing mysterious, moody-yet-elegant influences from faves like "The Magicians," "Harry Potter," and even the O.G. "Gossip Girl," it's safe to say we're obsessed with this aesthetic. So how to try it out for yourself? Just get inspired by all things scholarly. As per The Mood Palette, dark academia "revolves around literature, academics, [and] mystery." Obsessed with the pursuit of learning, this style harks back to the Greek arts, and reimagines school life in 19th century Europe (via L'Officiel). But it's not just a run-of-the-mill school girl vibe — this trend has a gothic, dark twist that makes it all the more mystical.
If you're wondering how to try the dark academia subculture, just start with elegant nostalgia. As per WTVOX, this aesthetic recreates the style of 19th century "private English boarding schools and Ivy League colleges." In that sense, going vintage is key — and thinking about what a real-life "Harry Potter" character would wear. Lived-in, high-waisted tweed pants will go great with all of your dark academia pieces, pairing them with button-down shirts, wool cardigans that look as if you knit them yourself, leather belts, loafers, and a satchel for all your books and papers. Horn-rimmed glasses and chocolate-brown accessories will go great with this look — just add slightly messy hair from falling asleep on your classics literature textbook.
Everything to know about the dark academia trend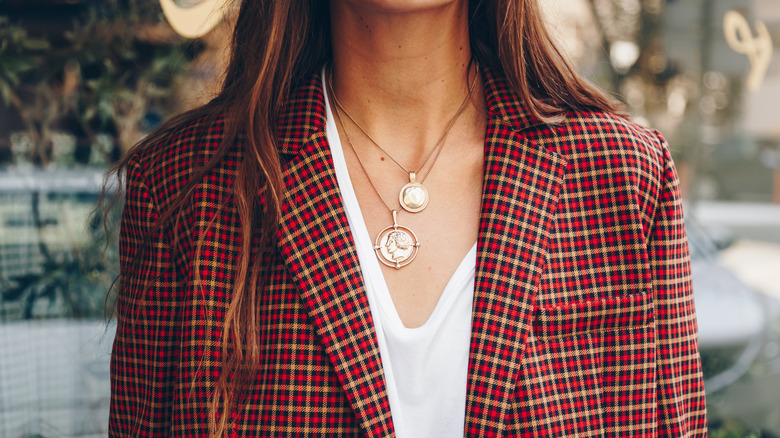 Shutterstock
So what clothes should you avoid? Avoid going too preppy — while classic prep includes chinos, argyle, crewnecks, gingham, grosgrain, and punchy, bright colors, dark academia is a whole other ball game. This aesthetic has a dark mystery that's more "Dead Poets Society" than "Legally Blonde" (although we'll always have a soft-spot for Elle Woods). Once you have an arsenal of cozy sweaters, trousers, and tweed, wool, and plaid everything (via L'Officiel), you should move on to hair and makeup. Since this style is all about being stuck in a book, go for minimal makeup with just a touch of liner around the eyes. For hair, messiness is key, whether in a messed-up bun or ponytail, or just let loose. Extra points for vintage-inspired curtain bangs that mysteriously frame your eyes. For jewelry, think gold coin necklaces of Greek or Roman figures, or a watch with a leather strap.
With #darkacademia booming on Instagram, Tumblr, and TikTok, it's clear this aesthetic is social media-approved and seriously magnetic (via L'Officiel). To showcase your dark academia style, remember that a gloomy, gothic vibe will work best. This aesthetic is all about neutrals like grays, browns, and blacks, with a mood board that includes rain, books, coffee, tea, and chunky knits. Think Emily Dickinson writing poetry in her Amherst room, and your new aesthetic is solved.
How to style a dark academia home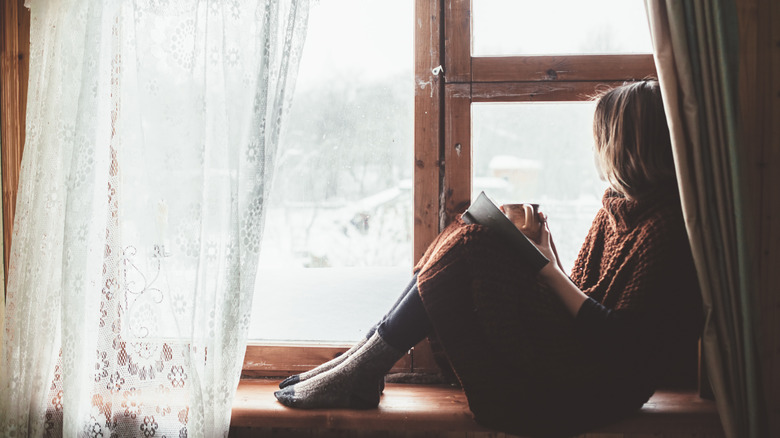 Shutterstock
Once you have mastered the dark academia aesthetic for your clothes, hair, makeup, and jewelry, it's time to move on to your home. While we would all love to live in Hogwarts, or even the estate of "Downton Abbey," it's more realistic to just add a few mysterious, academia-approved touches to your room. So where to start? A muted, dark color palette is important, as well as focusing on natural fabrics like wool, silk, and linen (via The Mood Palette). Coziness is key here, so accessorize your room with thick, wooly blankets, plaid pillows, woodsy candles, and a mini-library and reading nook to call your own. Fill your bookcase with titles like "Jane Eyre," "Dracula," and Edgar Allan Poe books (via Chasing Daisies), and grab a big, cozy armchair to read in.
There's a mystical element to this aesthetic too, so string your room with twinkling fairy lights and even some tarot cards if you wish. Play some classical music or soft piano tracks, and even add touches to your room like an old clock, a lantern, lots of plants, velvet anything, oil paintings, and candelabras (via Chasing Daisies). Decor elements like these will make your room the definition of dark academia — no studying required.