The Surprising Cooking Ingredient That's Essential To Giada De Laurentiis' Skincare Routine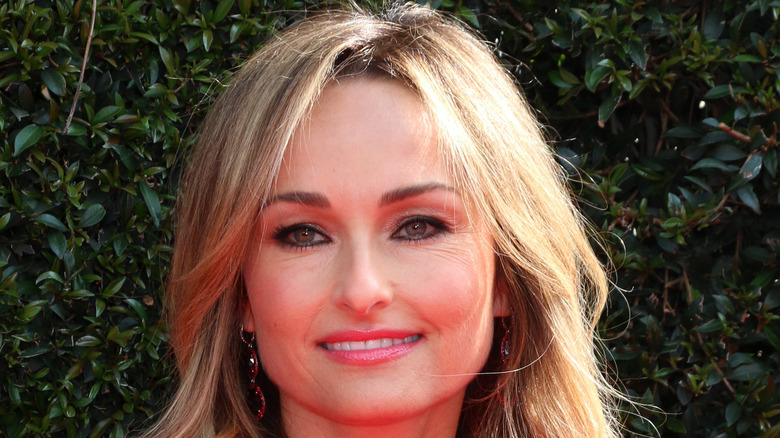 Shutterstock
Giada De Laurentiis is a world-renowned chef and television personality, and she's had a stunning transformation throughout her life. She's known for her work on series such as "Giada at Home," "Giada Entertains," and "Giada at Home 2.0," as well as her appearances on scripted series such as "Handy Manny" and "Young & Hungry" (via IMDb). According to her website, the celebrity chef even completed her culinary training at the renowned Le Cordon Bleu in Paris, France. Her website also explained that she's published a whopping nine cookbooks, so it's safe to say she knows a thing or two about food.
De Laurentiis' food knowledge goes outside of the kitchen, too. She has an understanding of foods' properties and thus how she can apply them in various areas of everyday life. For example, she uses lemon juice as a nail cleanser (via PopSugar). "I rub lemon all over my hands to take off any discoloration and any smells from cooking. It just really cleans everything up and makes my polish white again," she explained.
We can't argue with that! She reportedly also makes her own exfoliating scrubs using papaya and kosher salt, according to PopSugar. In an age when beauty products can be astronomically expensive, we'll take any tips and tricks we can.
This ingredient 'permeates' the skin to leave you moisturized and glossy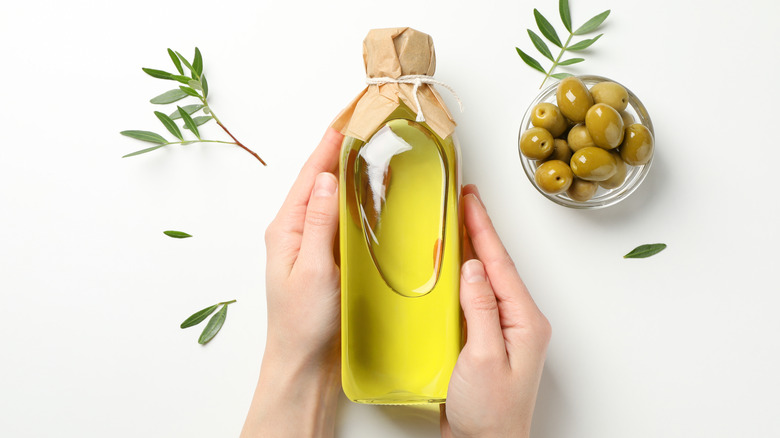 Shutterstock
Giada De Laurentiis' skincare tips don't stop with lemon and hand care. According to PopSugar, De Laurentiis — who has a stunning net worth — also uses avocado on her skin. This is definitely one way to ensure that your treatments are organic and natural, and we respect that a lot. There is perhaps one staple kitchen ingredient — especially for an Italian chef — that De Laurentiis uses the most in her skincare: olive oil.
De Laurentiis explained that she uses it not only on her hands, but also on the ends of her hair to keep them silk and shiny while filming her various television series. Of using olive oil on her hands, the personality explained, "I wash my hands a lot, and creams have a lot of water in them so they sit on your skin's surface, but the olive oil actually penetrates. It helps my cuticles and nails look shiny on camera," via PopSugar.
This makes perfect sense, too. In addition to actually permeating the skin, olive oil contains ample antioxidants, vitamins, and healthy fats that will nourish your skin just as they nourish you when consumed (via Verywell Health). It moisturizes your skin while also reducing signs of aging, lowering your risk of acne, increasing your collagen production, and combating oxidative stress, among many other benefits.
According to Verywell Health, you can either purchase skincare products that already contain olive oil or you can use the olive oil you already have in your kitchen. However, you want to use a good extra virgin olive oil. The higher quality the oil, the better results you'll have.