The Internet Can't Stop Talking About What's Going On With Rihanna And Drake
Shutterstock
The internet can never get enough of Rihanna or Drake. Whether it's begging Rihanna for her next album or wondering if the two stars will ultimately fall in love and be together forever, fans are very invested in them, to say the least. And this is for good reason. Both Drake and Rihanna have a variety of tattoos on their bodies, and included among them is a shared one: a shark that represents the time Drake took Rihanna on a date to Toronto's Ripley's Aquarium (via Etalk).
The singer and rapper have worked on a number of songs together, including Drake's "Too Good" and "Take Care," and Rihanna's "What's My Name?" and "Work," and their relationship dates all the way back to 2005 (via Billboard). The two reportedly met when Rihanna was filming her "Pon De Replay" music video but wouldn't go on their first date until 2009. However, Billboard notes that Rihanna has consistently denied dating Drake over the years, but at the same time, Drake has continued to champion the "SOS" singer and everything she stands for.
Now, according to Etalk, Rihanna is dating rapper A$AP Rocky, and she may finally be done with Drake for good.
Rihanna had her shared tattoo with Drake covered up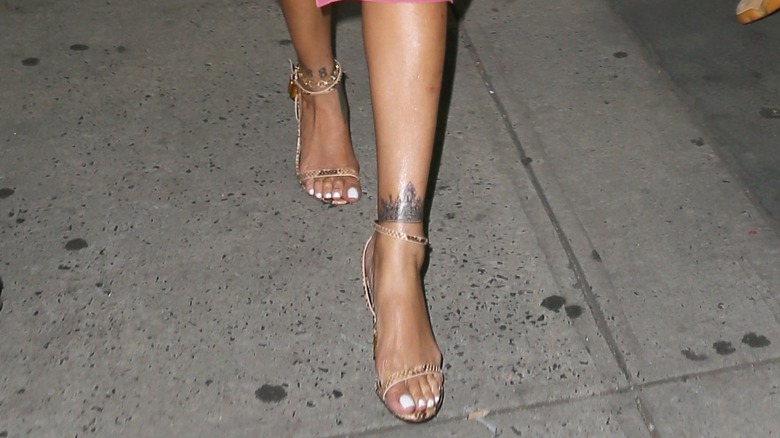 T.Jackson / BACKGRID
The current update to Rihanna and Drake's ongoing friendship came on June 24, when Rihanna was seen out with her boyfriend, A$AP Rocky. According to Etalk, Rihanna was seen in a beautiful pink dress that showed a lot of leg. Because of this, photographers caught photos that reveal her tattoos. Normally, this wouldn't be a big deal, but eagle-eyed fans noticed that Rihanna's shark tattoo has swum back into the sea. The "Only Girl (In the World)" singer has covered up her shark tattoo with a crown.
Admittedly, Rihanna is a reigning queen of not only the music industry but also the beauty industry, so a crown is fitting. However, fans are shocked by this revelation. One Twitter user wrote, "Rihanna covered up the matching tattoo she had with Drake lmao don't nobody feel my pain i promise," while another tweeted, "Rihanna covered the shark tattoo ... I know Drake somewhere out there bawling his eyes out." A third fan tweeted, "Drake is punching the air right now."
Rihanna and Drake are a couple that so many fans want to be together, and it's clear that some are taking this hard, whether they're upset that their favorite duo won't be together or they're upset for Drake because they think he's really hurt by this cover-up.