The Ultimate Guide To Achieving A Trendy Witchcore Aesthetic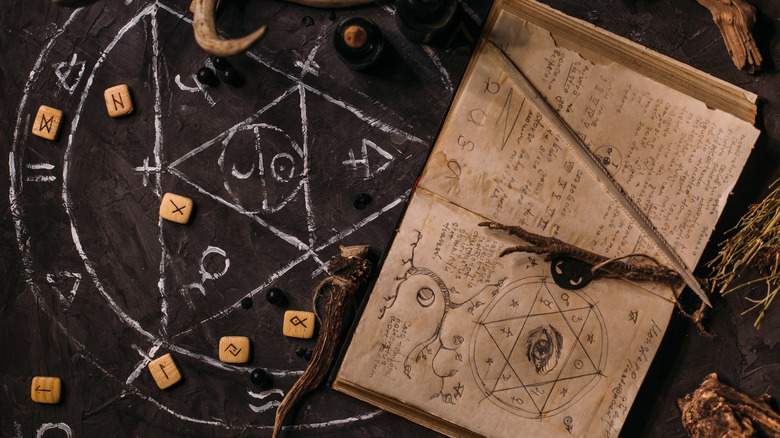 Shutterstock
If you've always been obsessed with "Harry Potter," "Sabrina the Teenage Witch," and Halloween-approved movies like "Hocus Pocus," you might love the witchcore aesthetic. The perfect style for anyone who wishes they could cast spells with a magic wand, or who just loves the idea of mystical tarot cards and black everything, witchcore is a TikTok trend that's here to stay. As per Daily Mail, this aesthetic "draws on aspects of witchcraft, the occult and old-fashioned Gothic glamour," while also emphasizing potion-making like a modern-day apothecary. Mixing witchy, dark themes with tons of fresh greenery and healing crystals, witchcore is a lifestyle for many –- and achieving the look is really fun.
According to The Guardian, witchcore's components include tarot cards, crystals, and pentagrams, and is gaining ground quickly: the #witchcore has 15.7 million views on TikTok, while #witchesoftiktok leads with 1.1 billion views on the social platform. Self-coined witches are all about self-care, potion recipes, spell tutorials, moon baths, and even hexes. All about trusting your intuition, witchcore is eerie yet empowering, with some forest-magic influences to boot. So how to get the look for yourself?
We're obsessed with witchcore clothes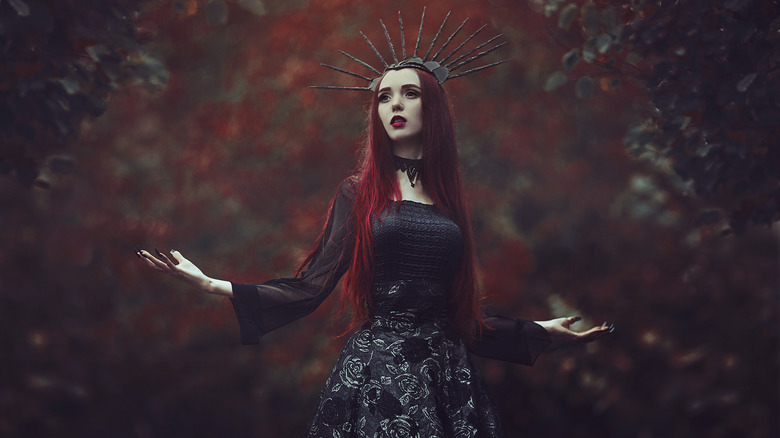 Shutterstock
For witchcore fashion, Rebels Market recommends trying out lace, frills, and anything black. A real-life occult style that veers away from pointy hats and broomsticks, modern-day witchcore includes tarot-inspired imagery, bell sleeves, astrology prints, and celestial jewelry like moon earrings. The Guardian echoes the sentiment, explaining that witchcore fashion is all about romantic black lace, velvet, capes, and long skirts.
Craving some sorcery inspiration? Simply look back to the mystical figures of years past. This aesthetic takes from Victorian-era dressing and its attention to corsets, hats, ruffles, and lace-up boots, which you can easily mix with modern pieces already in your closet. Layer on the mystical jewelry, especially anything with crystals, and get inspired by anything Fleetwood Mac's Stevie Nicks would wear. Black kimonos, slinky lace dresses, and tons of rings on your fingers will make for witchcore perfection.
When it comes to witchy beauty, going natural is your best bet. For hair, go for choppy waves with curtain bangs like Stevie Nicks in the '70s, try a few braids, or even decorate your locks with dried flowers and glittering star clips. Makeup should be natural and fresh, using organic formulas to just add a bit of a flush to cheeks and lips. You can also go for dark eyeliner for the perfect touch of spellbinding mystery.
Homewares that fit the witchcore aesthetic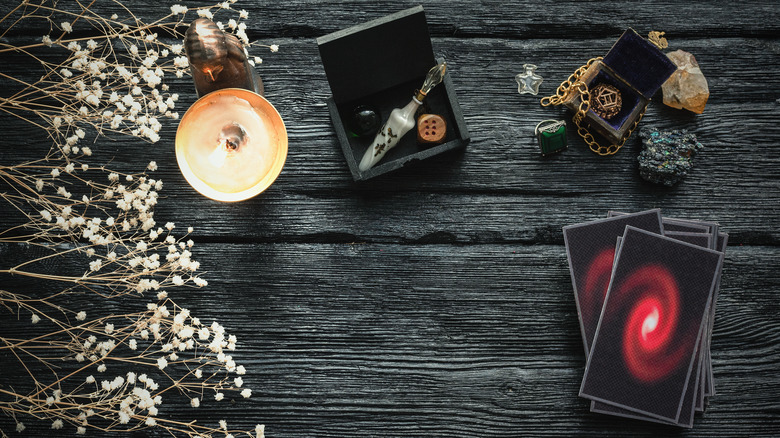 Shutterstock
Once you have an arsenal of witchy clothing, accessories, and beauty must-haves, you can go on to decorate your home with objects that are just as mystical. As per Inspiring Home, this can mean burning sage, spiritually cleansing a space with crystals, or showcasing gorgeous tarot cards. Spell books and potion bottles can create a hypnotic set-up, almost like an "Outlander"-esque apothecary.
For your witchcore home décor, get inspired by the Victorian era: gold mirrors, gilded frames, intricate carpets, wallpaper, a chandelier, velvet sofa, and lots of candles and faux oil lamps. Pair these homewares with leather-bound, vintage books, either stacked high or in a wood bookcase. Even more, the TikTok witchcore aesthetic relies heavily on indoor plants, which will bring lightness and freshness to the dark themes. Think "Victorian greenhouse" (via Inspiring Home) and fill your home with potion-ready herbs, plants, and flowers. Crystals around your house will give it a positive energy, while also making your décor completely bewitching.