The Trendy Summer Staple That You Probably Already Have In Your Closet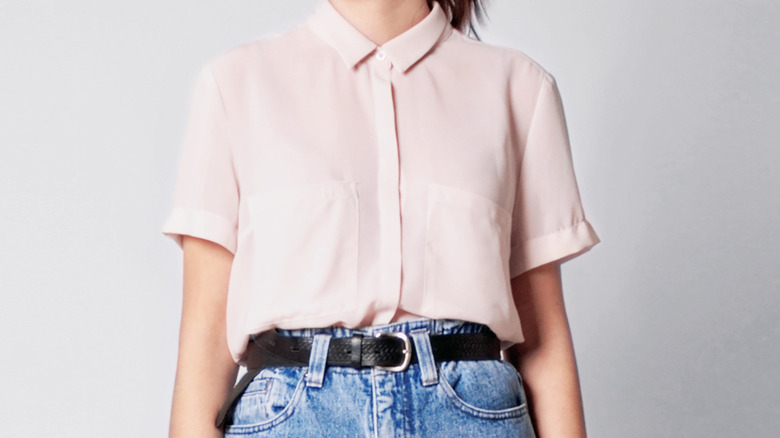 Shutterstock
When the summer heat hits, you might feel inclined to start putting away your spring and fall staples. When the temperatures rise, it's all about mini skirts, sundresses, and sun hitting your skin. Jeans, boots, and boxy sweaters are stored away in lieu of more colorful and cool pieces. Before you box up the button-ups and button-downs, however, you might want to consider adding them to your summer style rotation (via InStyle).
It's no secret that vintage vibes have been having a major resurgence over the last few seasons, and you can find tons of amazing button-ups in your local thrift stores and favorite boutiques. Don't be afraid to try the men's section out for a true oversized fit and a wider selection of eye-catching patterns. A good button-up shirt will fit seamlessly into your summer wardrobe and offer tons of styling options as the perfect light layer for the warmer months. (Note: a button-down shirt is the same as a button-up, only it will have two buttons on the collar points, via Primer.)
There are tons of ways you can wear a button-up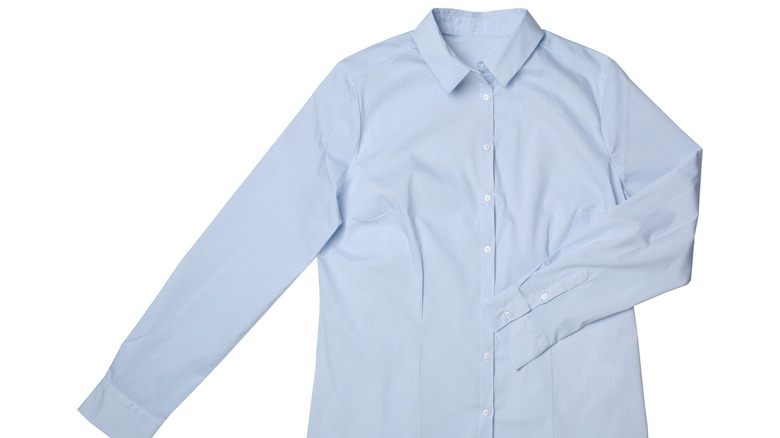 Shutterstock
There are endless ways to style an oversized button-up shirt for summer. If you have a short-sleeved option, try tying it at the waist to create a relaxed crop top look that's perfect for daytime wear, (via Byrdie). Add your favorite denim shorts and some canvas sneakers for an effortlessly chic vibe.
If you live in a climate with cool summer nights, a button-up will serve as the perfect outer layer. It's lighter than your classic denim jacket, and you can play with tons of color and pattern combinations (via InStyle). Try wearing one over a sundress with sandals.
For a chic and updated classic summer look, leave the top buttons undone and wear the button-up off the shoulder with your favorite distressed denim and a statement shoe (per Byrdie). You can also take an ultra oversized option and belt it at the waist for a lightweight dress and add heels.
No matter what your personal style is, there's no doubt that you can incorporate your favorite button-ups into your summer look. Play with color, pattern, and tons of fun accessories and you can create countless high-fashion looks without having to revamp your whole closet for the season.