The CSI Episodes That Feature Meghan Markle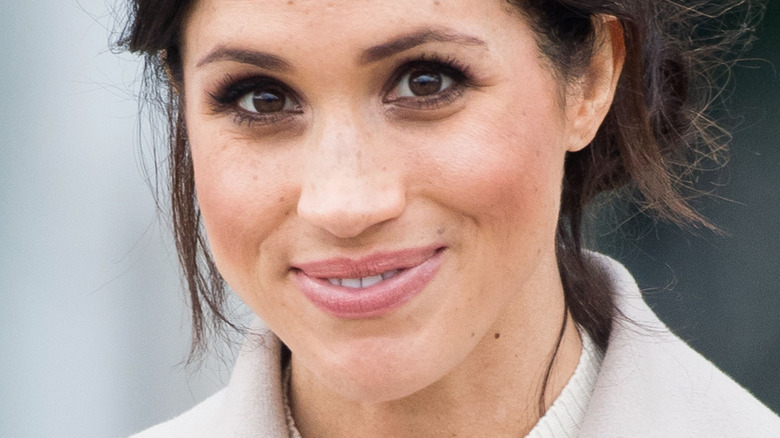 Shutterstock
Meghan Markle is America's new favorite princess, successful author, loving mother, and wife — and oh, that's right, she's also a talented actor, too. With the media so often sharing her life connected to British royalty, we are sometimes surprised to remember she had many successful acting appearances prior to gaining her crown. One such reminder was shared by Twitter user Jack, who took a screenshot and shared, "Hi @meghanmarkle loving the CSI New York appearance (no idea when it came out) xox" (via Twitter).
The fan and amateur sleuth is indeed right, as Markle had one appearance on "CSI: Miami" in 2010 as Officer Leah Montoya, as well as a role in "CSI: NY" in 2006 as Veronica Perez (via IMDb). In fact, the actor appeared regularly on procedural dramas before landing her better known role in "Suits" and included guest spots in "Castle" and "Without a Trace" as well as popular comedies like "The League."
And just what was Markle's character like on these crime show bits?
Markle played different characters on CSI
In the "CSI: NY" episode, Meghan Markle played Veronica Perez, a fired maid obsessed with rich playboy and bachelor Grant Jordan, who shows up dead in his "swim gym" in an episode titled "Murder Sings the Blues" (via CSI Fandom). While Markle's character isn't the "who-done-it" of the episode, she'll give viewers plenty of questions as to her character's unrequited obsession. Clearly Markle's appearance must have been a hit with producers and casting alike since she managed to grab a spot on "CSI: Miami" just a few years later — this time as one of the "good guys."
While a named cast member in the episode titled "Backfire," Markle is more of a background character in this one (via IMDb, CSI Fandom). The investigation centers around a questionable fire which turns out to have not 1, not 2, but 3 points of origin and some haunting reflections. With so much going on, it's clear the team needs another officer around, just as fans need another excuse to see Markle in a variety of different roles.
Excuse us now, we think a "CSI" binge is in our future. Can't wait to identify some more "before they were famous" actors.