Should You Use Satin Or Silk Pillowcases For Your Hair?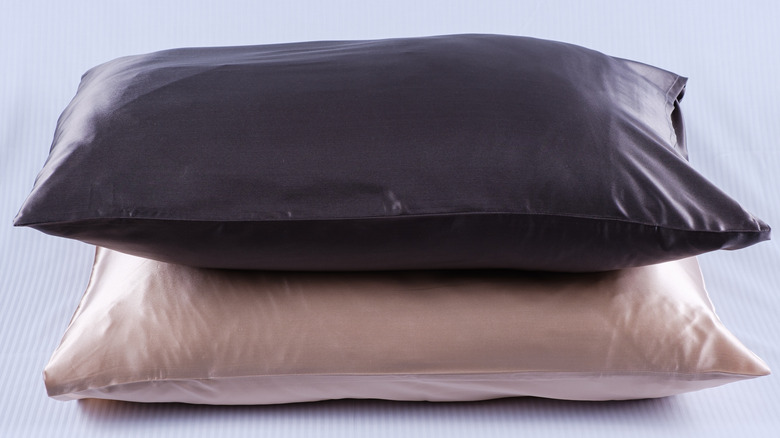 Shutterstock
If you have long or textured hair, chances are you've heard that your pillowcase might make a difference in how it looks after a good night's sleep. Cosmopolitan noted that both a silk or satin pillowcase is better for your hair than a cotton pillowcase. Celebrity stylist Jen Atkin told the publication, "Cotton absorbs moisture, while silk retains it, so when you lie on a silk or satin pillowcase, the oils from your strands are maintained rather than soaked up, leaving your hair nourished rather than dry. This is especially beneficial for hair types that are prone to frizz, such as coarse hair types or girls who have wiry curls." 
Perhaps you've been told you need to try out a silk pillowcase, or maybe you heard that satin is best for taming your tresses. While both materials could result in an improved coif come morning, which one works the best? Is it silk or satin? You might be surprised to find out that silk is a natural fiber from silkworms and is woven into a material (via Byrdie). As for satin, it's a weaving technique as opposed to the fabric itself. In fact, at one point, satin was made from silk. However, now satin is sometimes made out of synthetic or other types of fabric.
Here's how to choose between satin and silk pillowcases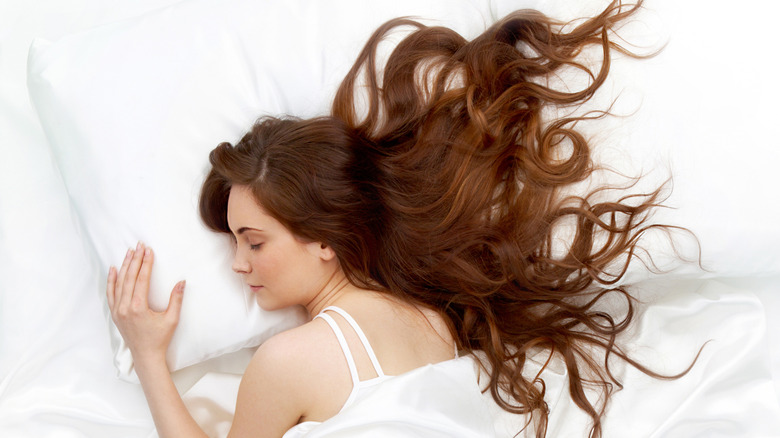 Shutterstock
If you're having issues with your hair, you might want to get a new pillowcase. Trichologist Cheryl Bergamy told Byrdie that "cotton pillows or scarves absorb natural oils leaving hair dry and brittle." If you've had this problem, you might try a different material to sleep on. Hairstylist Bridgette Hill said, "Silk is beneficial to the hair because it is a breathable fabric allowing circulation and preventing the moisture from night sweats from getting trapped at the root of the hair. It also helps to minimize the friction between our hair fibers and cotton fabrics. The texture of the fabric helps to retain natural shine and freshly blown out and styled hair."
Interestingly, satin provides the same type of benefit for hair. "Satin is much more forgiving, as it moves with the hair, which reduces the friction between the hair fiber and the pillowcase or surface," Hill explained to Byrdie. However, there's one big difference between the materials — satin is typically more affordable and easier to clean. Ultimately, choosing between a silk or satin cover for your pillow comes down to how much money you want to spend and how much fuss you want to deal with when laundering it. If for some reason, you're not willing to part with your cotton pillowcase, Cosmopolitan suggested you use a silk or satin bonnet to cover your locks at night.