Why Olympic Hammer Thrower Gwen Berry Has People Seeing Red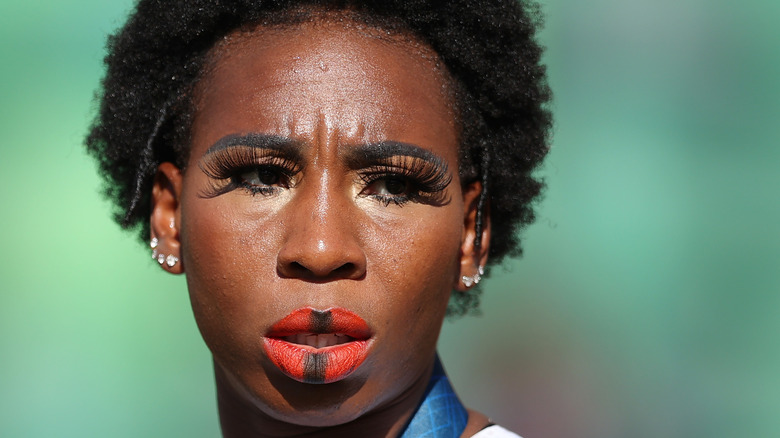 Patrick Smith/Getty Images
Olympic hammer thrower Gwen Berry is earning more attention for her activism than for her sport. On Saturday, the Missouri native turned her back on the American flag during the national anthem after winning bronze for her event, holding a shirt that read, "activist athlete" (via New York Post and Daily Mail).
About her protest over "The Star Spangled Banner," Berry said, "The anthem doesn't speak for me. It never has." Now, everyday Americans, and even President Joe Biden are reacting to Berry's very public move.
Press secretary Jen Psaki said on Fox News, Biden is "incredibly proud to be an American and has great respect for the anthem and all that it represents, especially for our men and women serving in uniform all around the world." But she also noted, "He would also say, of course, that part of that pride in our country means recognizing there are moments where we are, as a country, haven't lived up to our highest ideals, and that means respecting the rights of people, granted to them in the Constitution, to peacefully protest."
But not everyone agrees.
Some Twitter users are outraged by Gwen Berry's unpatriotic action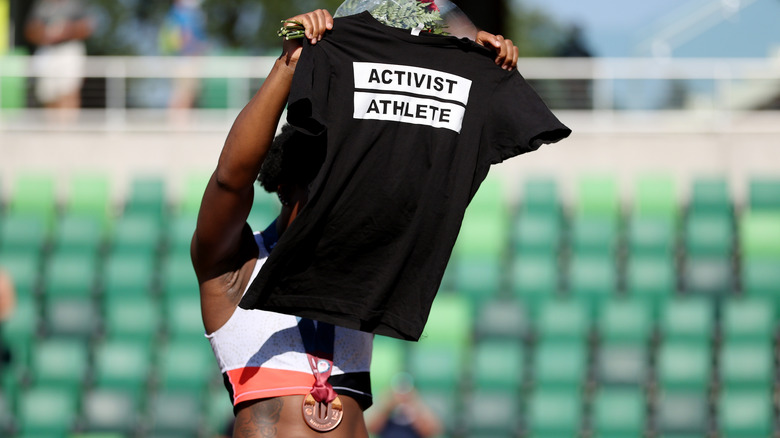 Patrick Smith/Getty Images
Despite Biden's statement of support for Berry, some people are offended by her refusal to face the American flag during the national anthem. Congressional candidate Graham Allen tweeted, "If you don't love America, you should NOT be allowed to represent America in the Olympics!"
Author Brigitte Gabriel tweeted, "Gwen Berry should be BANNED from the Olympics!" Another person commented, "She is a national disgrace." But another Twitter user opined, "The 1st amendment gives Gwen Berry the right to completely embarrass herself here." He added, "That same amendment gives me the right to rip her for doing it."
It's important to note Berry has an equal number of Twitter supporters, with one of them tweeting, "People complaining about Gwen Berry representing the USA need to hit the gym & start practicing their hammer throws because she earned her spot in Tokyo. I'm glad the team has at least one athlete activist."