The Truth About Gossip Girl Star Whitney Peak
Raymond Hall/Getty Images
The reboot of "Gossip Girl" is set to premiere on July 8 on HBO Max and the intrigue has been building. The trailer for the series, dropped on YouTube on June 10 and gives fans a glimpse of what they're in for. Yes, Kristen Bell is returning as the voice of the infamous anonymous blogger "Gossip Girl," and yes, the series looks full of sexy scandals and fascinating fashions as the drama revolves around "super rich kids with nothing but fake friends" as the Frank Ocean soundtrack suggests.
Enter Zoya, a middle-class newcomer to the Upper East Side NYC elite, played by Whitney Peak. Per Elle, there was no publicly available character description at the time of casting, but the trailer and press photos put her at the center of all the drama. Although a relative new actress to the screen, Peak may look familiar from past appearances as Judith in "The Chilling Adventures of Sabrina" (via IMDb).
Per Popbuzz, Peak is originally from Kampala Uganda, and moved with her family to Vancouver, Canada in 2012. They also report that the actor is active on Instagram, but doesn't appear to have an account on Twitter or Tiktok.
Whitney applauds Gossip Girl's inclusion and diversity with the cast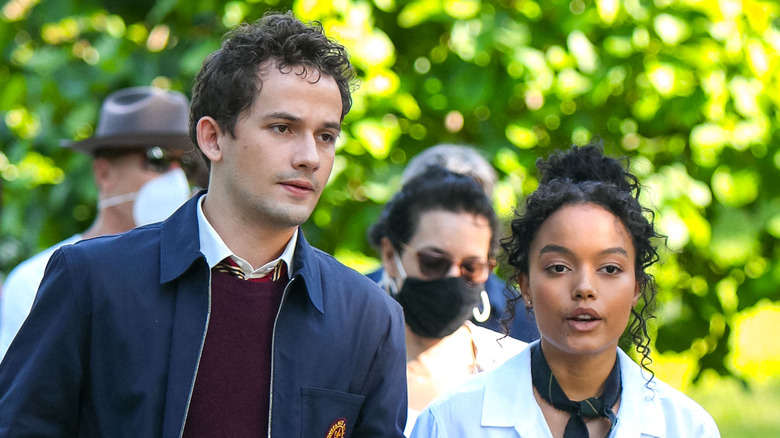 Jose Perez/bauer-griffin/Getty Images
When asked by Interview Magazine if she was intimidated by working on the reboot, Whitney Peak responded, "Oh my goodness, how could it not faze me? There's such a huge fan base of the original. When the news got out, my Instagram went crazy and everybody wanted to know who I was playing and when it was going to start filming. I was like, 'Oh my gosh, this is going to be a lot.'"
On her relationship with the show, Peak, who is also a fan herself, added, "I've now seen it three times. I was definitely a fan of it before I even auditioned for the show."
In an interview with Dazed, Peak noted, "There's a lot of representation, which I can't say we saw a lot of in the first one. It's dope being able to see people who look like you and who are interested in the same things, and who happen to be in entertainment, because it's so influential and obviously reflective of the times." The outlet also theorizes that the diverse cast and queer inclusivity seen in the trailer could be a direct result of HBO's success with "Euphoria" and its ability to portray and speak to Gen Z.
The show's press release, as reported by Vulture, states, "Eight years after the original website went dark, a new generation of New York private school teens are introduced to the social surveillance of Gossip Girl. The prestige series will address just how much social media — and the landscape of New York itself — has changed in the intervening years."
XOXO