The Y2K Sandals That Are Making A Comeback This Summer
Soda
If you follow fashion, you probably noticed that lots of the trends of the early 2000s are coming back in style these days. Members of Generation X recently took Millenials to task over side parts, pointing out that center parts are now stylish. Shockingly, however, velour tracksuits returned to popularity. Now, Soda sandals from the early days of the 21st Century are joining this revival. The high platform summer shoes are back in style for better (or for worse), according to PopSugar. Sure, if you want to protect your feet, you should choose sandals with straps and heels that measure less than 3/4-inch, according to Gotham Footcare. However, what's fashionable does not always align with what's healthiest for your feet. 
These iconic sandals, which you may remember from your childhood, look somewhat similar to regular flip flops, but the Oxley shoe happens to have an incredibly thick sole with a platform-style heel, making it stand out from typical summer shoe choices. 
Here's how to add this trend to your summer wardrobe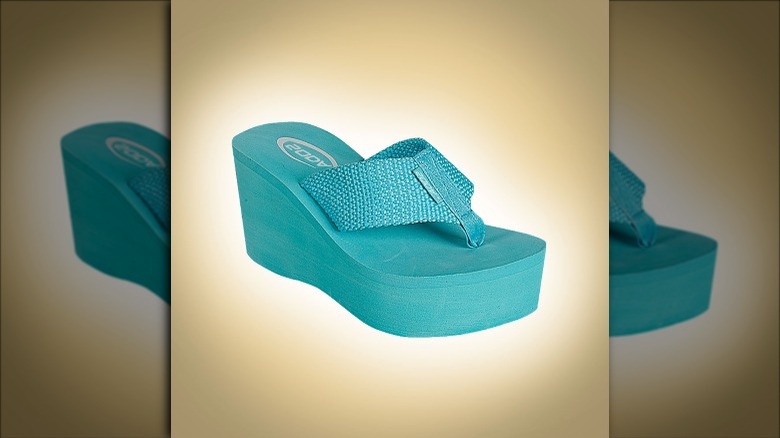 Soda
If you are interested in the revival of the early aughts platform flip flops, there's plenty of good news for you because several other brands created their own iterations of the Soda sandals. From Bebe, Rocket Dog, and Guess to high-end brands like Staud, Veronica Beard, and Dries Van Noten, there's a platform flip flop in nearly every price range and color choice (via PopSugar). While your feet might not thank you as you teeter atop the tall footwear, your style for the summer will remain on point. Plus, the platform bottom of these stylish sandals will help you literally stand out from the crowd, elevating you to new heights. 
As with all style revivals, this one may end up waning again, but if you happen to save your Soda sandals from your youth, this summer is the perfect time to dig them out of your closet and wear them with your favorite summery outfits. Who knows? They might even look awesome with your Juicy tracksuit. If you are not ready for the sky-high shoes, but you still want the Soda brand, there is good news! They sell flat sandals, too.