Why The Location Of The Princess Diana Statue Is So Significant
Bettmann/Getty Images
July 1, 2021, would have been Princess Diana's 60th birthday, and it's the day the Princess Diana memorial statue will be unveiled (via Town & Country). Last year, Princes William and Harry confirmed its location in the Sunken Garden at Kensington Palace and reaffirmed "their hope  that the statue will help all those who visit Kensington Palace to reflect on their mother's life and her legacy" (via People). The Sunken Garden wasn't a random choice for the statue. It was a special place for Princess Diana, and the statue isn't the first memorial there to be dedicated to her memory.
"She would stop by and talk to the gardeners when she was living here," Sean Harkin, head gardener at Kensington Palace, told Vogue. "She might be going out for a jog or a walk in the park and if it was early and it was quiet, she would have a chat with them."
According to Historic Royal Palaces, the first way that Diana was memorialized in the garden took place in 2017. To mark the 20th anniversary of her death, gardeners transformed the space into "The White Garden" in her memory.
The Sunken Garden is now a memorial garden for Princess Diana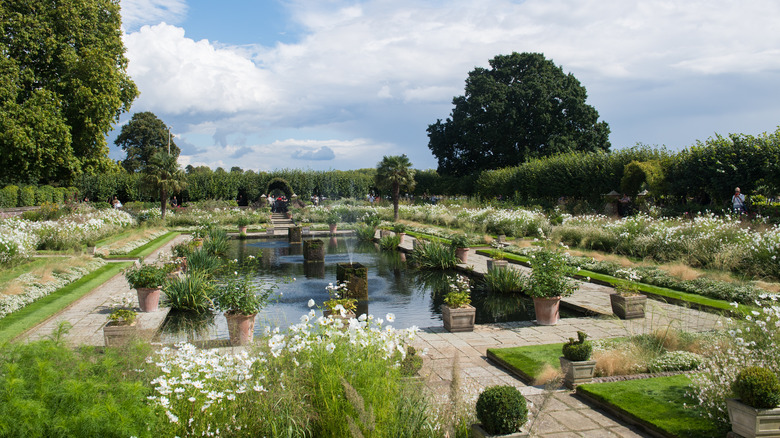 Samir Hussein/Getty Images
Sean Harkin told Vogue the consideration that went into the flower choices for the garden. Forget-me-nots were planted because of the symbolism of the princess being gone but never forgotten; however, they were also one of her favorite flowers. Also included were white and cream roses, because, as Harkin told Vogue, "I think lots of people would refer to Princess Diana as the classic English rose. It felt like it was a must to include them." There were also hundreds of lilies planted because Diana would often leave the cut flowers in her apartment at Kensington.
The Sunken Garden was also the site that Prince Harry and Meghan Markle used to announce their engagement in 2017 (via Town & Country). It was also in 2017 that Prince William and Prince Harry formally commissioned the statue of their mother. As they said in a joint statement, "It has been 20 years since our mother's death and the time is right to recognize her positive impact in the U.K. and around the world with a permanent statue" (via BBC).
Sculptor Ian Rank-Broadley was chosen to create the statue. He's the same artist who created the image of Queen Elizabeth that can be found on every British coin since 1998. "Ian is an extremely gifted sculptor and we know that he will create a fitting and lasting tribute to our mother," the princes' statement continued (via People). "We look forward to unveiling the statue, which will allow all those who visit Kensington Palace to remember and celebrate her life and legacy."