Natural Sunscreens That Actually Work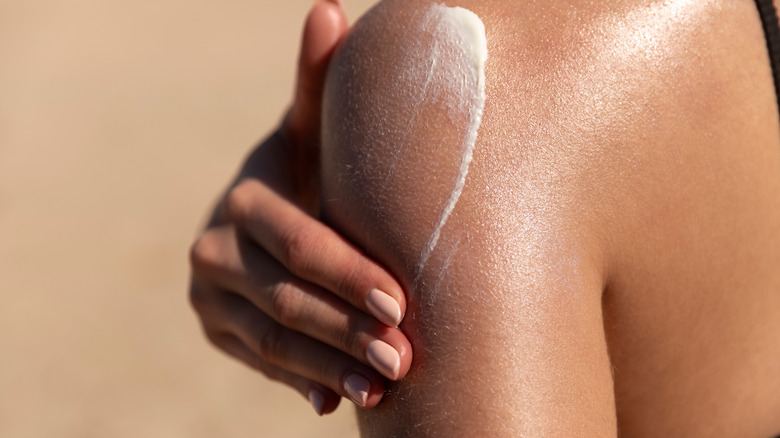 Shutterstock
We may receive a commission on purchases made from links.
When it comes to sunscreen, naturally you want to ensure that you are using a product that actually works. Sun damage can be dangerous, so using a product that does what it promises is important. However, that does not have to mean that you can't use natural sunscreen. According to Good Housekeeping, there is some confusion when it comes to the term "natural" being used in relation to beauty products. In most instances, natural beauty products are made of fewer ingredients and contain fewer chemicals or modified ingredients.
In regards to natural sunscreen, this usually means that the product is free from oxybenzone. Per Good Housekeeping, oxybenzone might affect hormones within the body and contribute to allergies; it's also seriously detrimental to sea life, as it can cause coral bleaching and coral death.
But a word to the wise when it comes to "natural" and "organic" sunscreen (and all beauty products, for that matter): There's limited regulation by the FDA. Per Cosmopolitan, if you want a truly natural sunscreen product, you need to take a close look at the ingredients.
What are natural sunscreens and do they actually work?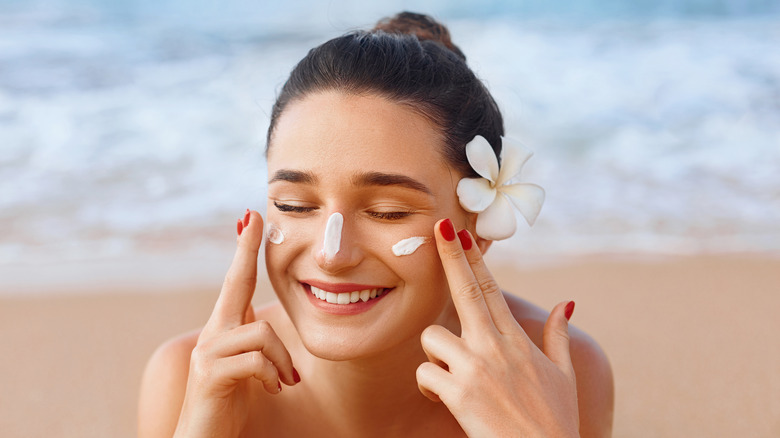 Shutterstock
There's a common misconception that natural sunscreens do not work as well as traditional ones, but that could not be further from the truth. Per Good Housekeeping, dermatologist Sara Hogan said "[m]ineral sunscreens protect the skin by reflecting and scattering UVA and UVB radiation, and visible light" compared to formulas that contain chemicals and absorb the radiation.
When it comes to what the best natural sunscreens are made of, Hogan recommends that you opt for a product that's made with zinc oxide or titanium dioxide. According to Cosmopolitan, formulas that are mineral-based and use either zinc or titanium dioxide as skin protection make the best natural sunscreens.
Reader's Digest explains that, per dermatologist Dr. Mark Lupin, mineral sunscreens that reflect the sun's damaging rays are far superior to chemical sunscreens that absorb the rays. And these alternatives won't weigh heavy, either. "Mineral sunscreens have improved a lot over the years," Dr. Lupin noted. "They've evolved from white, pasty, heavy sunscreens to refined, micronized formulations that are clear and beautiful on the skin."
What are the best natural sunscreens?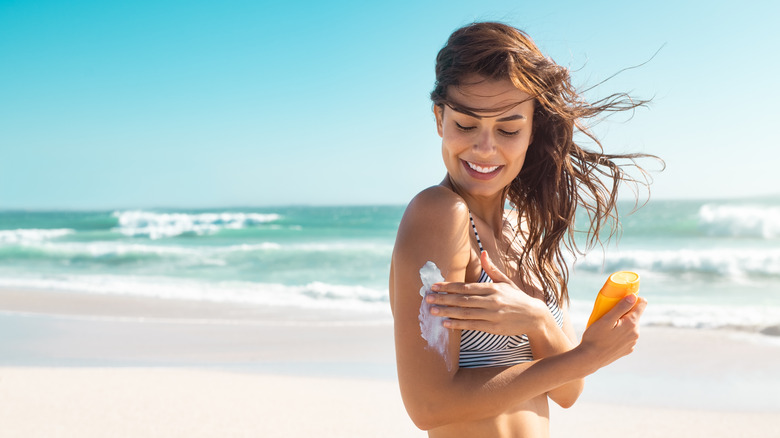 Shutterstock
Per Good Housekeeping, Sun Bum Mineral Non-Tinted Sunscreen Face Lotion with SPF 30 is a good all-natural sunscreen. It has a formula that is not oily or tacky and is also water-resistant. Another recommendation for a natural sunscreen is Botanical Sunscreen by Australian Gold. Made using a combination of zinc oxide and titanium dioxide, this sunscreen has an SPF of 50 and a water-resistant formula.
Cosmopolitan recommends using Two Peas Organic Mineral Sunscreen which has an SPF of 30 and is designed with sensitive skin in mind. Made with zinc oxide, combined with certified organic oils, such as coconut and jojoba oil, it not only protects skin from sun damage, but also moisturizes. According to Good Housekeeping, Sunforgettable Total Protection Body Shield is another good natural sunscreen option.
Per Livingly, the MyChelle Sun Shield Liquid SPF 50 is designed to protect your skin from the sun's damaging rays and is free from artificial colors and fragrances. C'est Moi Gentle Mineral Sunscreen, which is designed with sensitive skin in mind and is free from parabens and silicone, offers another fragrance and sulfate-free sunscreen option.