How To Pull Off The Hoodie Under A Blazer Look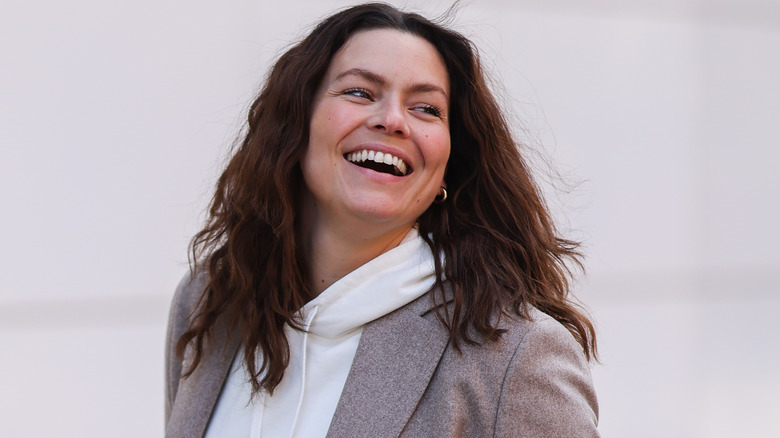 Jeremy Moeller/Getty Images
Blazers seem like an essential business casual wardrobe item, and hoodies are great for evenings and weekends (but not necessarily for dates) when the weather is cooler. There's a good chance that you own both a smart blazer and a comfortable hoodie. However, you have probably never considered pairing them together. Interestingly, according to WTVOX, wearing a hoodie under a blazer is now a fashionable thing to do.
The unexpected style popped up in clothing stores like Off White, Stussy, Noah NYC, Awake NY, and Palace. Unfused reported that the style originated around the turn of the century in the Northeast due to strict dress codes at prep schools. Then, several NBA players like Lebron James, Chris Paul, and Kyrie Irving pulled it off, and now women wear the stylish combo. 
You might find yourself thinking you would never layer a blazer over a hooded sweatshirt. However, if you decide to take the plunge on the possibly questionable, but cute new fashion trend, there are a few steps you can take to ensure your ensemble is on point and does not fall flat.
Here's why the right hoodie can make or break the look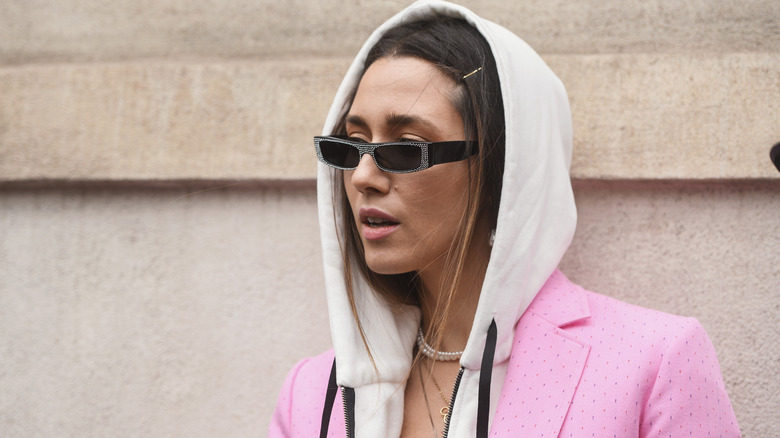 Shutterstock
While WTVOX reports that the stylish hoodie under a blazer is an outfit that would be difficult for you to mess up, there are a few things you should keep in mind before trying the unexpected trend the first time. First, nearly any hooded sweatshirt can fit under a boxy jacket. However, if you have a more tailored version, you could also pair it with a fitted hoodie. According to Unfused, the modern street style mixes formal clothing with casual to create something unique. 
Whether you choose to wear a luxury hoodie or something a bit more affordable, you should consider a darker, solid-colored hooded sweatshirt to keep the look sleek, especially when pairing it with a tailored blazer. Second, Unfused suggests wearing the same color for both layers with lighter-colored pants for a slightly more casual look. However, Who What Wear also indicates that a sleeker, lighter-colored ensemble can elevate the style.
Slacks, jeans, shorts, or skirts work for this trend, and the nice thing is, if you get lighter-weight pieces, you can wear them in warmer weather, too, saving heavier layering pieces for the cooler months (via Who What Wear). Of course, as with any fashion trend, you should feel comfortable with your outfit, first and foremost.